LGBTQ WEDDING SUITS & DRESSES NEAR YOU
Find your gay and lesbian wedding dress at a bridal salon near you. Check the LGBTQ friendly bridal salons in your area. Compare bridal salons by location, services offered and customer reviews. Find the perfect LGBTQ wedding outfits geared towards same sex weddings.
When you visit The Wedding Shoppe you'll find that we are unlike any other bridal boutique in Metro Detroit. Or any wedding dress shop in Michigan, for that matter. We've done
Advice From EVOL.LGBT
HOW TO CHOOSE LGBTQ WEDDING SUITS & DRESSES?
As you're getting your wedding plan you might already have answers to the following questions. What's the theme of your big wedding day? Are you inspired by particular gay wedding dresses you've seen?
If not, then it's a good time to do it because it will help you. Get a mood board together to define your wedding dress style. Browse LGBT friendly bridal salons in your area and save any that stand out to you.
Keep in mind that a gay friendly bridal shop may or may not necessarily have a variety of lesbian wedding suits and other wedding attire. For instance, not all bridal shops carry bow ties, 3 piece suites, and offer custom suits for all body types. Check the salons' pages for images of their inventory. Start your wedding dress search months in advance.
Once you've found a perfect place for your gay and lesbian wedding outfits, reach out and start a conversation via EVOL.LGBT's "Request Quote" feature. We will walk you through the questions to discuss with the shop and get your perfect wedding dress or suit.
Frequently Asked Questions
Check answers to common questions about choosing LGBTQ wedding suits and dresses at a bridal salon near you.
What is a bridal salon?
Bridal salons usually imply two different types of businesses. One type is stores that sell or rent wedding outfits and accessories. The other type is beauty salons that provide beauty services for brides, bridesmaids, and flower girls.
Bridal shops go beyond dress sales and rentals. They often offer bridal makeup, bridesmaids' dresses and makeup, photography and sharp suiting services. Some even provide car rentals and wedding cakes for their clients. Their main goal is to be an all-in-one solution for brides.
How to choose an LGBTQ wedding dress?
Once you have your wedding style idea, starting on it months in advance gives you time to get things tailored or custom made. If you plan to wear a dress or gown – and don't want to spoil the surprise for your spouse-to-be – you can send pictures of it to your close friend who's helping you plan everything, or your wedding planner if you've hired one.
They can help you both choose something that will complement the other. You can also get creative with the outfits of the wedding party. If you want to get really colorful, you could even have each wedding party member wear a color from the rainbow flag.
How much are wedding dresses?
While the national average cost of a wedding dress is $1,631 (including alterations), dress prices are based on various factors and generally range from $500 to $4,000. By shopping at large retailers and getting a machine-made gown, you can easily land on the lower end of the spectrum.
Where to buy wedding dresses?
Shopping for a wedding dress you need to understand what kind of dress you want and check bridal salons in your area. You can always buy a wedding dress online, but make sure it has the correct size. Visiting the actual wedding dress shoppe, you will have the opportunity to try a dress on and alter it if necessary.
Why are wedding dresses white?
The color white represents purity, symbolizing both a woman's chastity and her transition to a married Roman matron. A royal wedding sparked the modern trend in white bridal wear in 1840, when Queen Victoria chose to forgo the royal tradition of wearing coronation robes when she married Prince Albert.
Can I rent a wedding dress at a bridal salon?
Yes, you can rent a wedding dress at a bridal shop; but your options will be limited. Remember that the store's rental inventory is always smaller than what they have for sale.
Yes, renting a wedding dress could save you money, but the final decision should be based on the pros and cons of renting your bridal outfit. And this is a more extended topic for a separate article.
From the Blog
Read articles about gay and lesbian wedding outfits in our blog.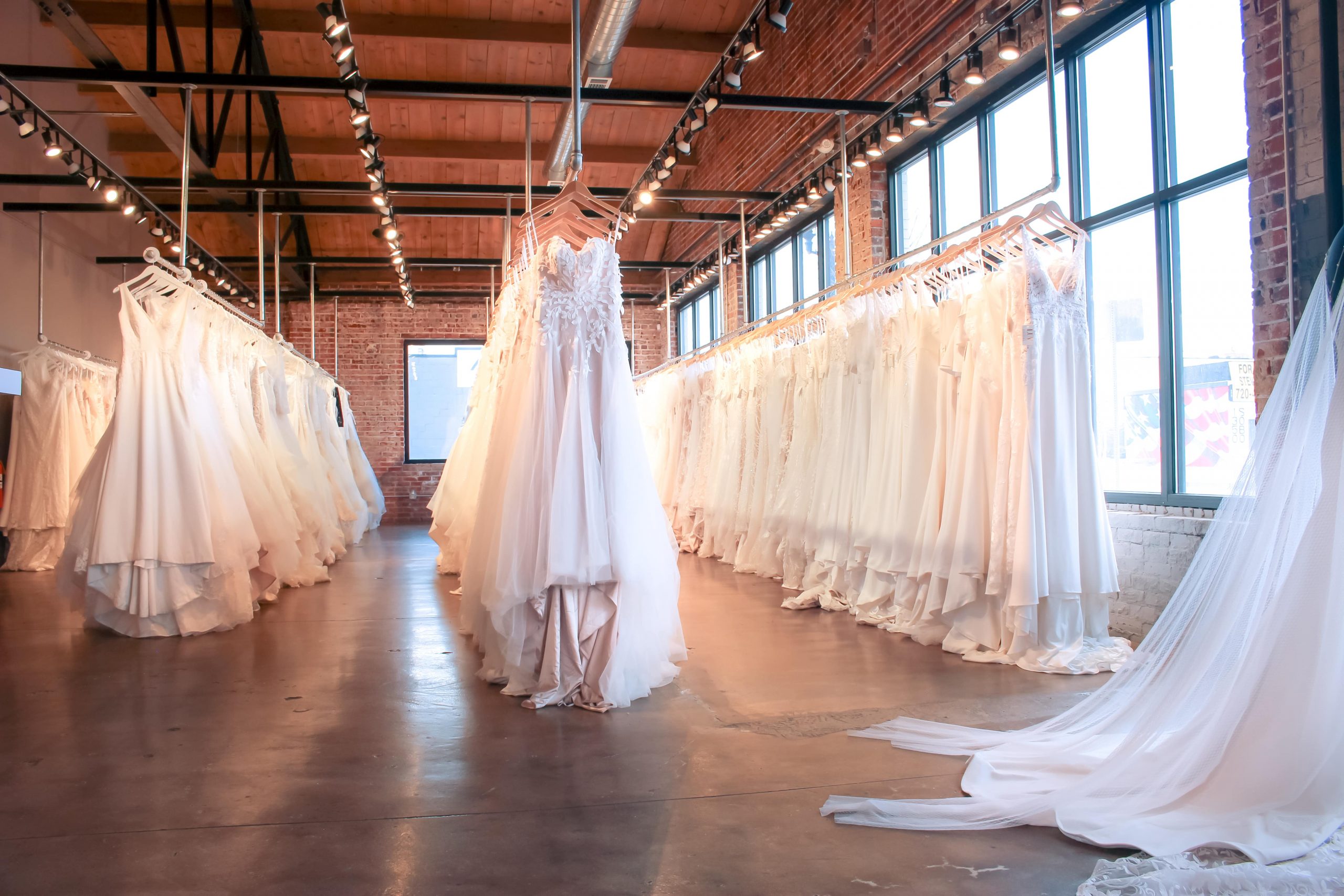 You are planning your wedding and of course everything must look perfect, we know it. Especially wedding suit, whichever style you need, you will find it in these special and really LGBTQ friendly bridal salons, let's go!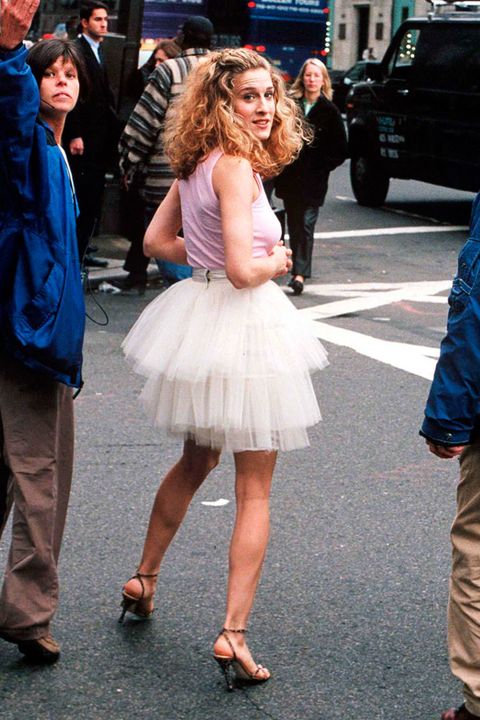 dress in Dirty Dancing Jennifer Grey's finale dress in Dirty Dancing (1987)This dress might feature in every single list of iconic film dresses …no surprise when it's such a beloved film. When you saw this movie in 90s you didn't notice on beautiful beads on the waist line.DRESS IN breakfast Tiffany's Audrey Hepburn's bright pink […]
LGBTQ Wedding Outfit Guide
Here are some essential pieces for a gay and lesbian wedding outfit. Bridal shops are offering these and many other pieces.
Suits or Tuxedos
Many gay grooms opt for traditional suits or tuxedos as their wedding attire. Suits range from classic black or navy to more unique colors or patterns. Tuxedos typically include a tailored jacket, matching pants, a dress shirt, and a bow tie or necktie.
Shirts and Tops
Dress shirts are a staple in gay wedding outfits and are often worn with suits or tuxedos. Shirts can be in various colors, fabrics, and styles, such as crisp white, pastels, or patterned designs. Some grooms may wear vests or waistcoats in addition to their shirts.
Footwear
Dress shoes are commonly worn with gay wedding outfits, such as oxfords, loafers, or brogues. The choice of shoe color can be coordinated with the overall color scheme or personal preference.
Accessories
Neckties or Bow Ties
These can complement the suit or tuxedo and add a touch of personal style. They come in various colors, patterns, and materials.
Pocket Squares
These small handkerchiefs can be folded and placed in the suit or tuxedo pocket to add a pop of color or a stylish accent.
Cufflinks
These decorative fasteners are worn on the cuffs of dress shirts and can be personalized or match the overall theme of the wedding.
Belts, Suspenders, or Braces
These can be worn to provide a polished look and keep pants in place.
Lapel Pins
These small accessories can be worn on the lapel of the suit jacket and may feature symbols, flags, or other meaningful designs.
Boutonnieres
These are decorative flower arrangements worn on the jacket's lapel, often matching the floral arrangements of the wedding.