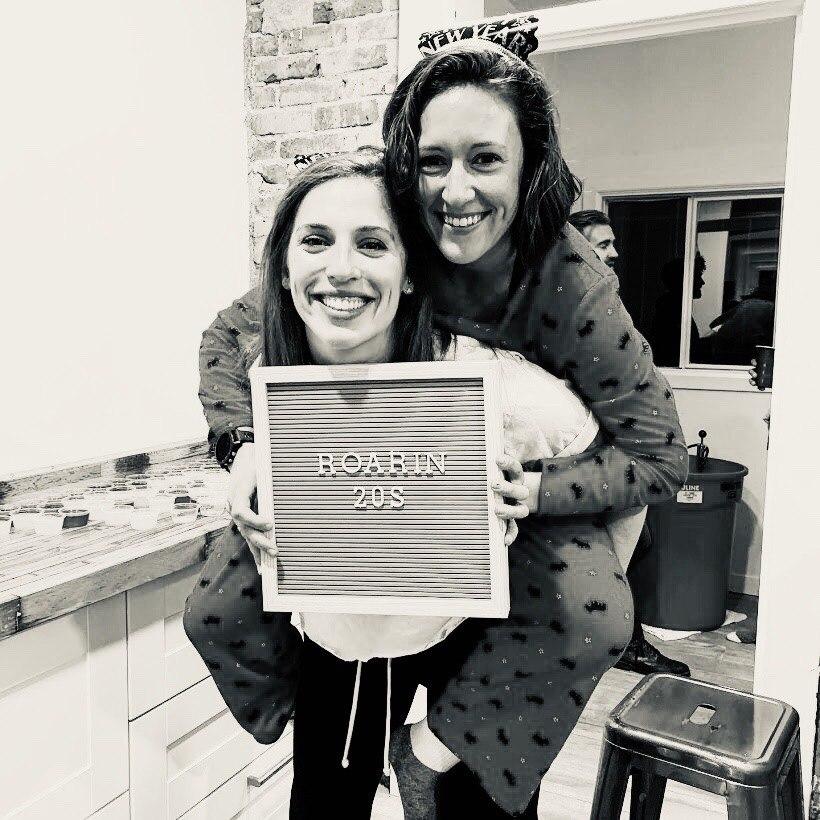 Queer softball couple – DANIELLE AND CAROLYN
Softball. first love. first experience with a woman
Danielle met Carolyn at softball games. It was the first time Danielle dated a girl. And she didn't really understand all of the feelings she was experiencing. Danielle immediately felt drawn to her.
First meet and First Impression
Danielle's first impression of Carolyn
Danielle had an energy about Carolyn that she couldn't get enough of. After most softball games, the team would go for a drink after and Danielle always waited in the car until she saw Carolyn pull into the parking lot so they could walk in together :))  She wanted to make sure they sat next to each other at the bar!
Carolyn's first impression of Danielle
Before meeting Danielle Carolyn's sister actually met her because she played on the softball team as well.  She told Carolyn there was someone on the team she thought Carolyn would like.  When Carolyn met Danielle, she was definitely attracted to her, but she was not out yet and she was hesitant to get into a relationship with someone who was not out to their family and friends yet.  Ultimately, she could not resist.  She is so kind and someone you always want to be around because of the lightness she brings to every encounter.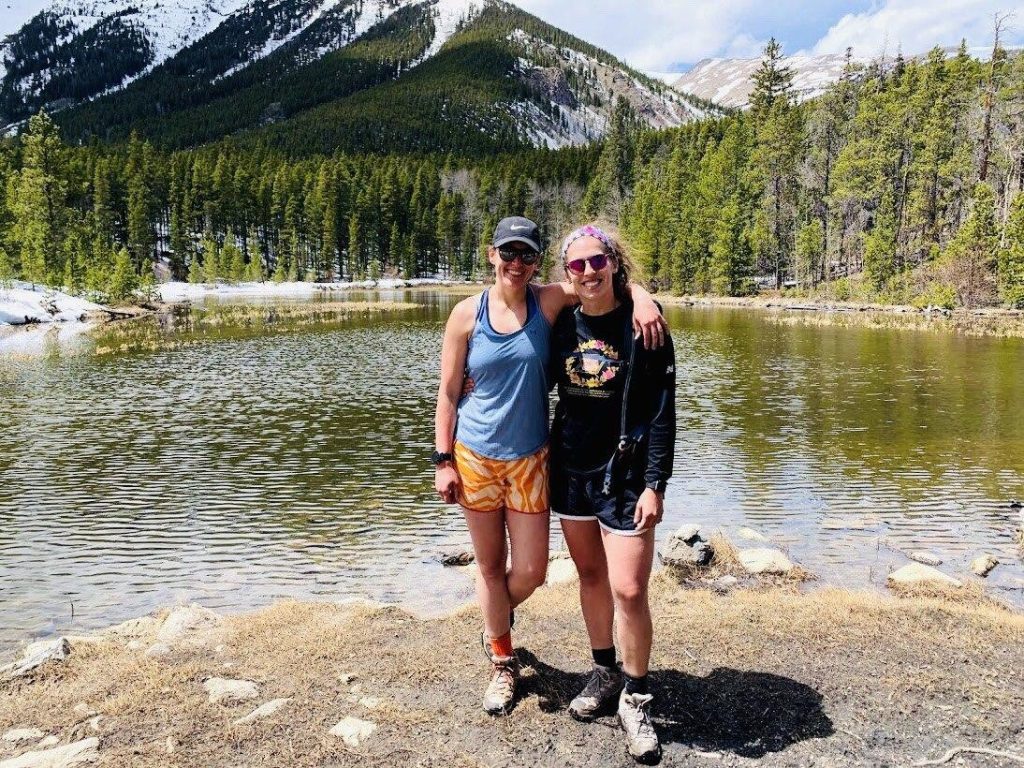 During softball season they quickly became friends and started texting every single day. The more they talked the more they opened up to each other. Carolyn went away for her yoga teacher training for a month and they hung out one on one the week she got back and continued to get closer. Not too long after that things started to get more serious and a few months later Carolyn asked Danielle to be her girlfriend when they were at Made in America in Philadelphia directly after they saw Nick Jonas perform. Carolyn was wearing a claddagh ring and turned to Danielle and asked her if she could put it on the "right" way.
First kiss. On Danielle's 23rd birthday in her bed at her parent's house. Oops…
First  – I love you! Carolyn was the first, she  gave Danielle a necklace for Christmas and it said "I love you" in morse code. She cried when she tol it for the first time.
Difficulties with recognising as a gay couple with parents or friends
Carolyn was the first girl Danielle ever dated so yes this was difficult. As soon as Danielle realized how seriously she felt about her, she knew she had to tell her family and friends. It definitely took her parents a few years to come around. But her friends were awesome. And  luckily, now Danielle's family is very supportive. Carolyn had already been out for 5 years so her family was always great about their dating!
And Danielle's parents have come a long way and were very excited when they got engaged. Carolyn was so nervous to tell Danielle's parents. She planned on proposing but she said the conversation was better than she could have ever imagined.

Weird habit of each other
D:  "We are both extremely competitive and hate losing.  When we play games, which we do a lot, someone is always upset they lost and the other is gloating."
They both grew up in NJ but moved to Denver, CO last July. Carolyn wanted family to be there when she proposed, so she did it when they both traveled back to NJ for vacation. Carolyn made reservations at a rooftop bar to "get drinks" with her sister and brother-in-law before going to her dads for dinner that night. She proposed on the rooftop. Her sister asked if they could get pictures up there since it was so nice.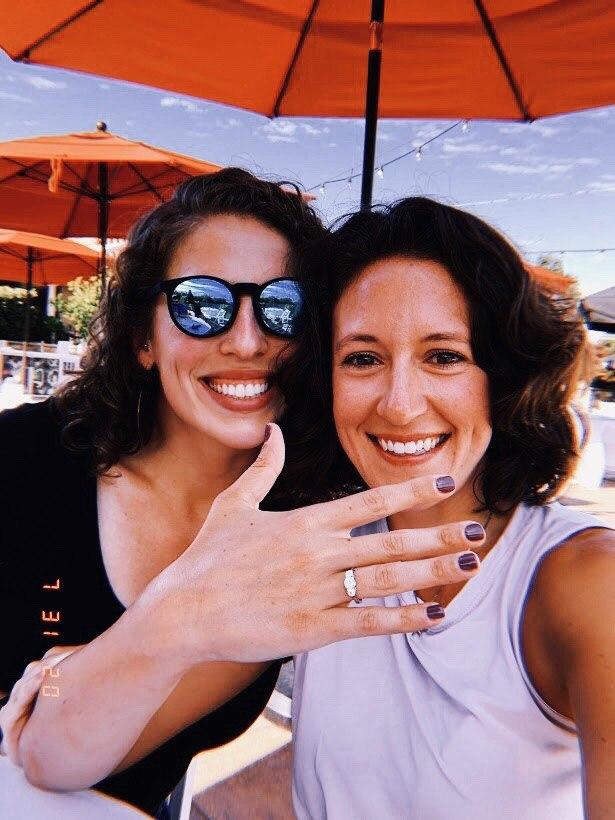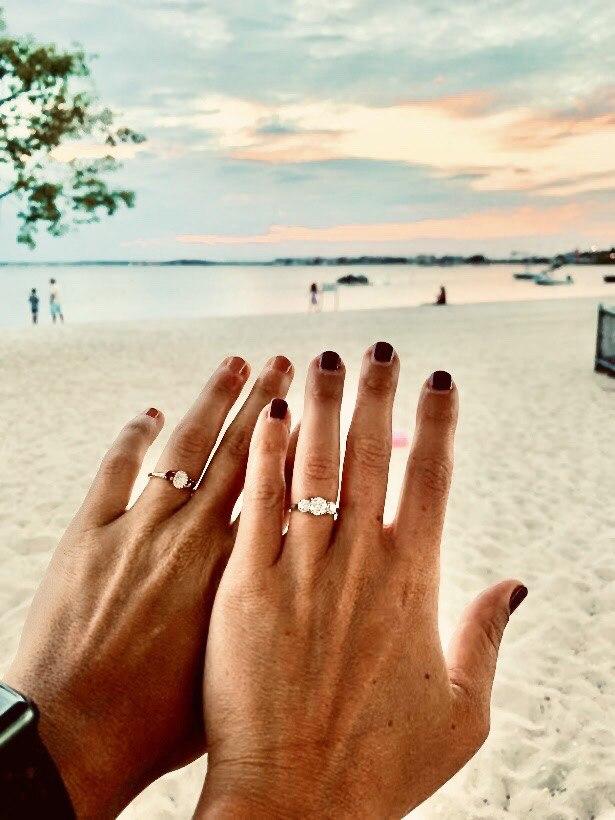 After getting a picture of us side by side, Carolyn got down on one knee and said "Do you know how much I love you? Will you marry me?" Of course she said YES (Danielle also had a feeling it was coming. Carolyn never asks for pictures!)
When they got to Carolyn's dads I was surprised to see my family there too! Carolyn also arranged for Danielle's best friend and her fiance to come and they all celebrated the engagement that night. It was such a special night and so great having both our families together to celebrate. Carolyn's mom also gave Danielle Carolyn's ring for proposal. It was her grandmother's ring and Carolyn had it reset.

D: "We are in the process of planning our wedding now. We are aiming for 2022 because we both come from really large families and want to celebrate with everyone."