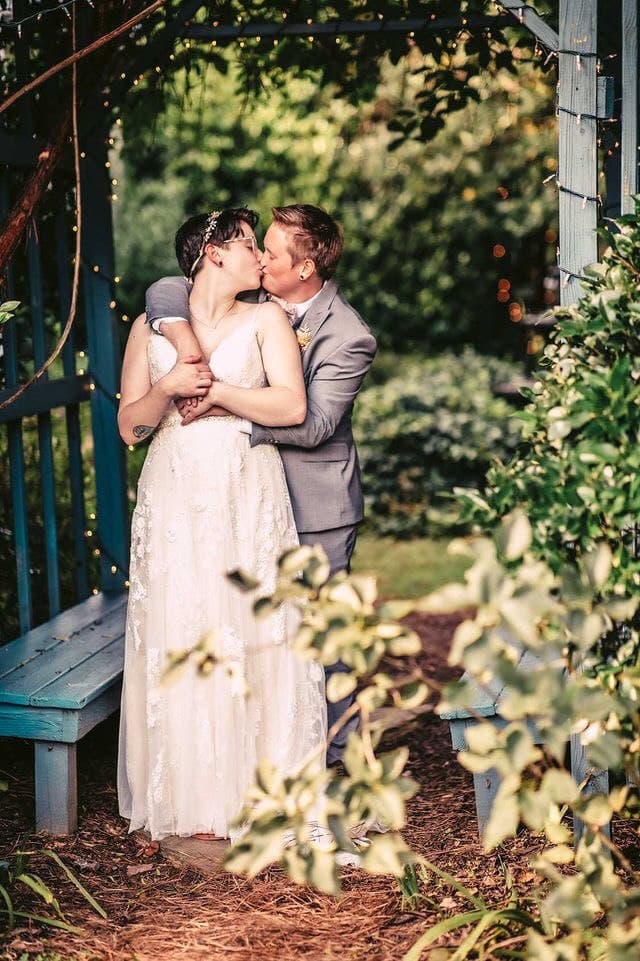 Sarah and Cindy – Love from College
The beginning of the story
They met their senior year of college through their sorority, at a convention in Chapel Hill, NC. They were both there by themselves and needed to sit by someone, and Sarah was immediately drawn to Cindy.
It was completely new. Cindy made Sarah excited to be around her. She made Sarah laugh just by existing. Cindy was the first person that Sarah had ever connected with like that.
Sarah: "She had bleach blonde hair and florida skater vibes, and a Harry Potter sticker on her laptop. I sat by her for convention and never stopped sitting by her. I came up with every excuse possible to be with her. She was wicked smart, funny, caring and I just knew we were going to be best friends."
Cindy: "Damn, she's cute!"
They started officially dating about 6 months after they met. Neither of them was "out" to their families, so realizing they were in love came along with realizing that they would need to tell their friends and family.
First "I Love You". Cindy technically said it first, but Sarah said it right back! They were sitting on the floor in a bathroom at a sorority event and everything just spilled out.
First kiss. Cindy and Sarah came up with every excuse to see each other, and their first kiss happened late one night hanging out. They were sitting on Sarah's couch, just talking, and it just happened. Sarah got the overwhelming need to kiss Cindy, so she did. And she never stopped.
Difficulties with recognizing as a gay couple
They were a little confused at first, but they have been amazingly supportive. Both of their families love each other so so much. They are all wonderful! They live less than 10 minutes from all 3 sets of parents and see them very frequently. It's just simply amazing that they all embraced them as a couple immediately.
Weird habit of each other
LISTS! Cindy is the master list maker, and has multiple lists in her head, on paper and in her phone at any given time.
Cindy proposed to Sarah the weekend of her birthday in 2018. They were camping in the mountains and Cindy kept telling Sarah she needed to use the bathroom! So obviously, Sarah went with her
Cindy did this twice before finally saying, "okay I. Am. Leaving. You. Stay. Here."
So Sarah stayed! A few minutes later, Cindy comes back to the tent whispering, "quick baby come look! There is a family of deer outside!"
Sarah got up and ran out of the tent to see the deer and all of a sudden lights started popping up, and she realized what was happening. The lights started to turn on, leading her down a little path. A few steps in following the lights, the end point lights them. It's a sign (that Cindy had somehow hidden in their car that they drove to camp with) with string lights, spelling out the words, "Marry me?"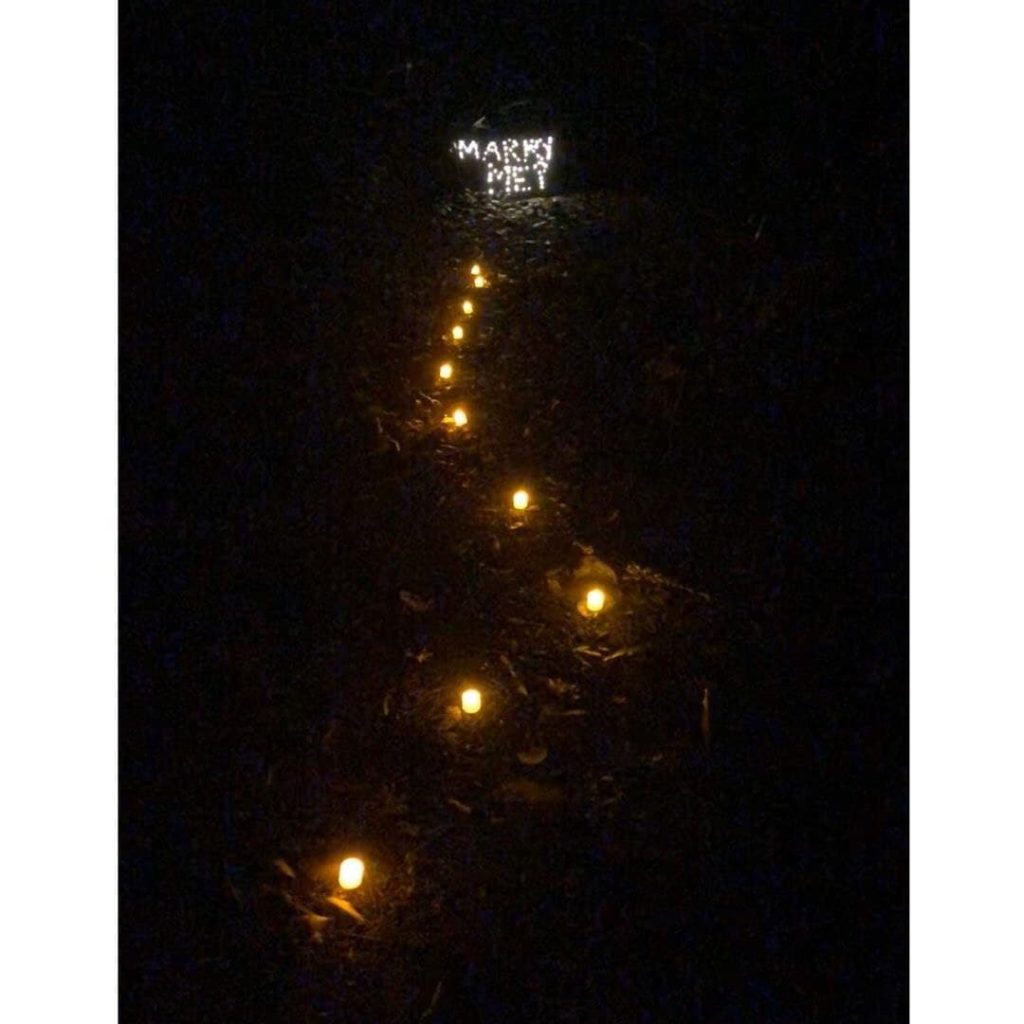 Before Sarah had even finished reading the sign, she turned to see Cindy kneel down. Sarah was just overcome with happiness and excitement. After Cindy proposed, she presented Sarah with a shirt that said "enGAYged" and they had a great rest of their trip.
One week later, it was Sarah's turn! Sarah finally came up with an idea to propose to Cindy. Cindy had to work on that Saturday morning, so Sarah saw her shot. Sarah printed out a bunch of pictures of them and stringed them together and headed out to a park Cindy had never been to. Sarah walked a little ways into the trail and tied up her picture string between two trees. Then, she waited. And waited. Cindy was supposed to be off at 12, but finally got there around 1.

Sarah met her at the front to walk her to where she had it set up. Then, as they were walking over to it, people started saying things like, "oh are those your pictures?" "Congrats!" "Oh how cute you two!" "Look its the people from the pictures!"
They laughed and made their way to Sarah's proposal site, Sarah got on one knee and professed her love to Cindy while a family fed ducks behind them. It wasn't perfect, but it was perfect.
It was a fairytale! They got married September 19, 2020, which happened to be Sarah's birthday! They were married at a gorgeous B&B in Pleasant Garden, North Carolina called Walnut Lane. It was nestled in the woods in the middle of nowhere, and looked like something out of a story book. They got to stay at the venue from friday-Sunday.
On Friday, they set everything up! Their families both came to help and it was actually a lot of fun! On Saturday, they spent the morning alone together at the venue. They chose to not have bridal parties, so they got to get ready by themselves. They took their time and it was so calm and beautiful.
After they got ready, they did their bridal portraits around the venue. They felt famous with their 2 photographers and gorgeous venue. After taking some of the most breathtaking pictures, their family started to arrive. They were able to see everyone coming in, but no one could see them.
When it was finally time, they got ready to go outside.
They held hands and walked each other up the aisle. They met their best friend at the front, and she gave them the absolute most beautiful ceremony they could have asked for. It meant everything to them that she performed their wedding.
They read their vows off of little scraps of paper they had written on early that day over a pizza. The ceremony was perfect.
They walked back down the aisle with their loved ones blowing bubbles and ringing fairy bells.
After the ceremony, they danced all night with their friends and family to a playlist Sarah's 16 year old sister was running. It was everything they had ever wanted, and then some.