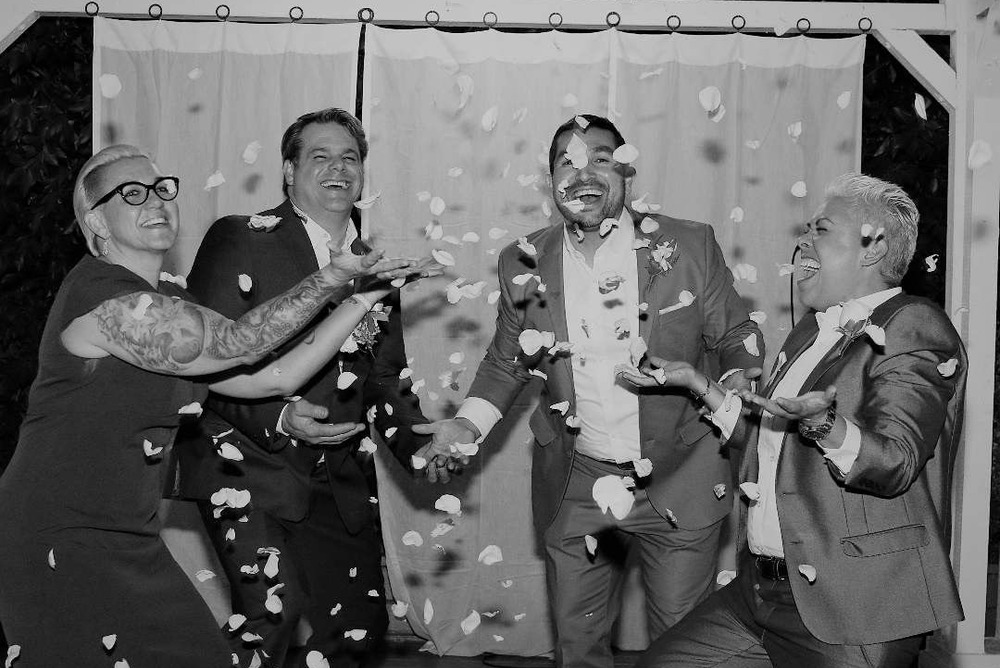 Christian and Jeffrey – met 21 years ago
The beginning of the story
They met one day while Christian walking his dog and Jeffrey drove bye. They had crossed paths before while hiking locally…they locked eyes in passing. This time Jeffrey pulled over and they formally introduced themselves. They had an instant chemistry.
 Christian: 'I remember the day I fell in love with him. We were walking my dog "Penny" and remember our conversation about our families and looked over into his eyes, and knew he was my soulmate. This happened 21 years ago."
They initially dated secretly, because they were involved with others. As those relationships ended they remained friends as they figured out where their lives were taking them. In 2012 they decided they were meant for each other. In 2015 while in Paris, Christian decided to propose to Jeffrey on top of the Eiffel Tower.
Difficulties with recognizing as a gay couple
None what so ever. Both their families have known for years and have welcomed them with open arms.Their world is their family and friends. They spend as much time as they can between their large families and amazing group of friends.
They in Paris on the Eiffel Tower in which Christian had planned make a proposal. Christian scared of heights, so being so high up freaked him out. His niece and her friend were with them and were aware of the proposal.
As Christian got close to the edge, he couldn't move any close and went down to his knees. First of fear and then realizing he could seize the moment and that's when he purposed. Jeffrey first response was "do you have a ring?" And proceeded to say "B*tch, of course, I do". And then he said "of course I will".
Their wedding was a simple representation of them. Blue, green and white flowers and decorations. Their suits blue and khaki. They had 100 guests and got married locally. It was an early evening wedding.
After they were done with their vows they walked through the garden hand in hand with everyone holding sparklers and the song "Love is in the Air" by John Paul Young. They later entered the reception and very heartfelt speech's, by them, their best women, family members and friends. After that, they danced the night away. Their formal dance song was by Ed Sheeran "Thinking Out Loud".