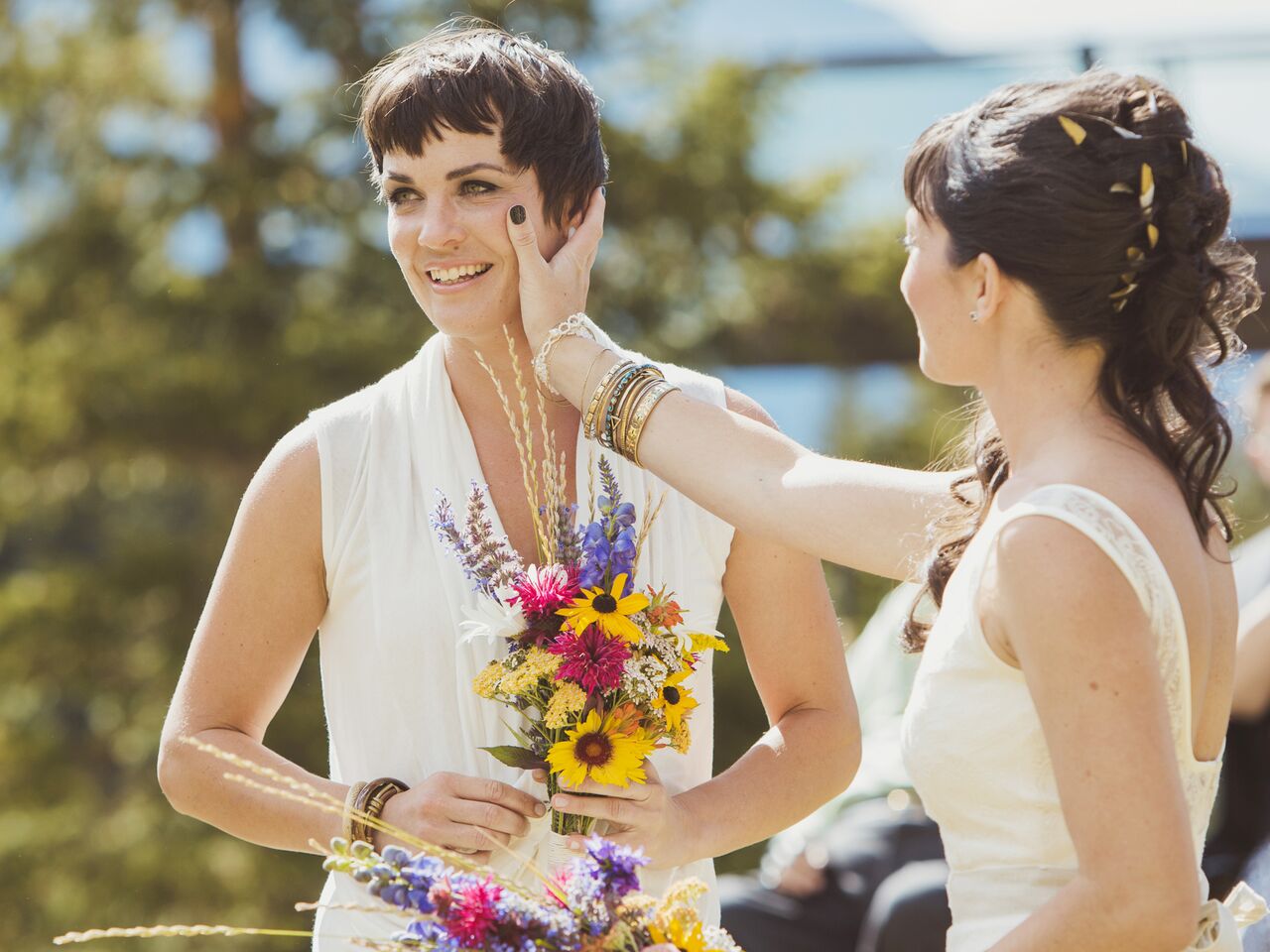 5 of Our Favorite LGBTQ+ Wedding Moments
Take a look at some the sweetest moments we've ever seen from LGBTQ+ weddings.
by Maggie Seaver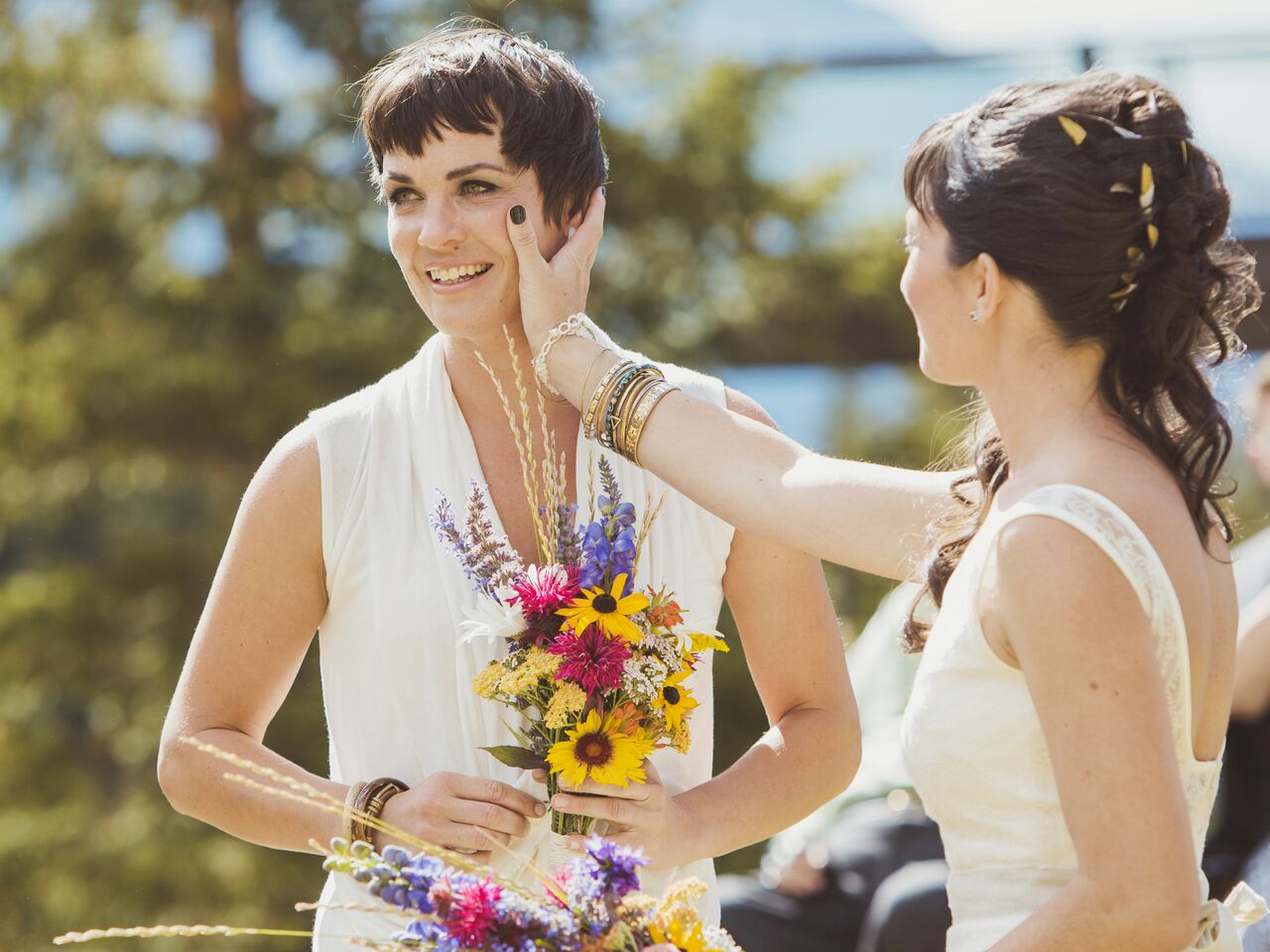 Since The Knot is proud to have strongly supported marriage equality for the LGBTQ+ community since we were founded in 1996, we rounded up five of our favorite, most touching moments from LGBTQ+ weddings in the spirit of love.
Emily Humphrey and Ericka Hart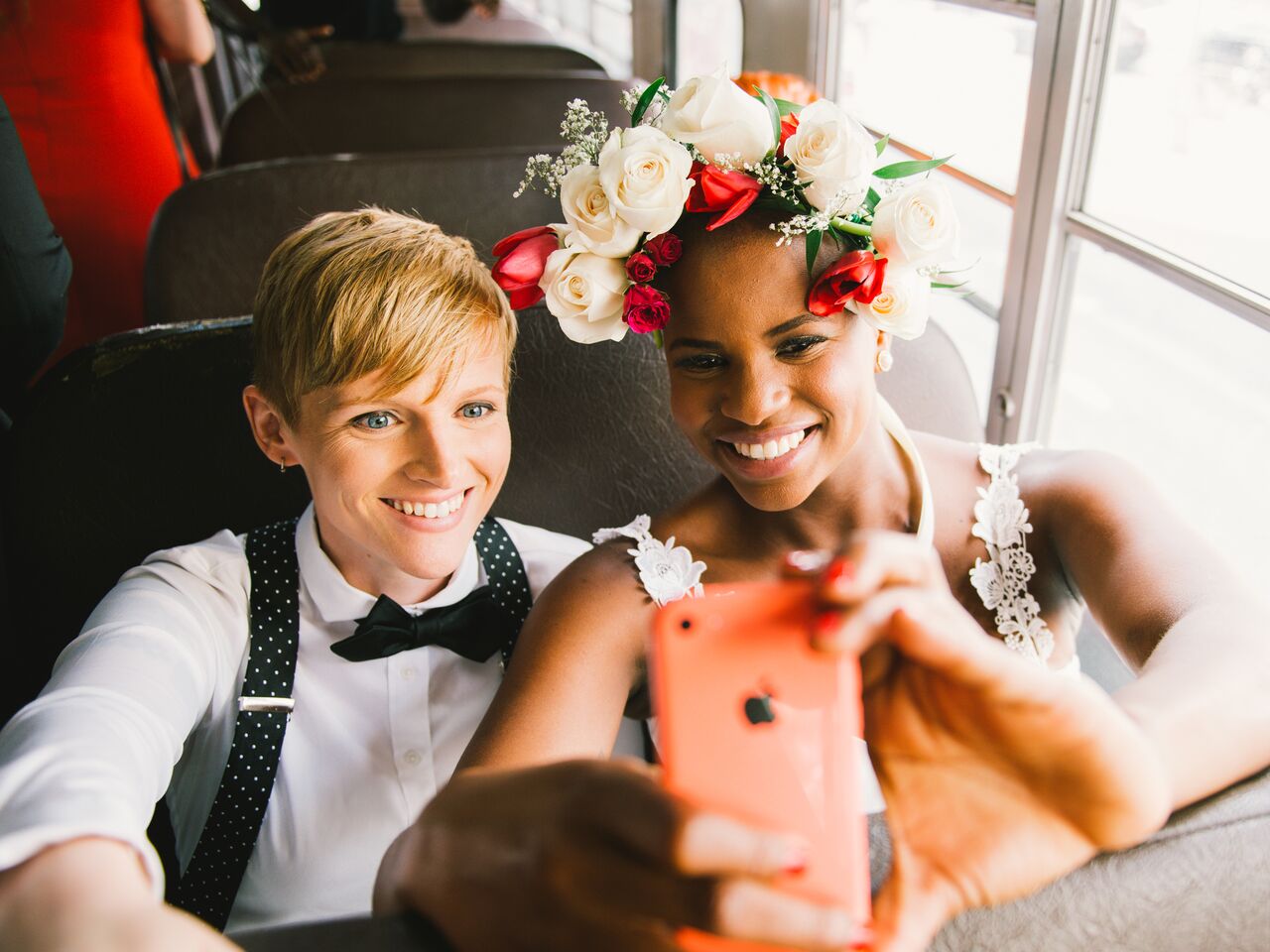 Emily and Ericka said their vows by the lake at Prospect Park in Brooklyn, New York. On the bus ride to the reception venue at Bat Haus in Bushwick, the couple quickly snapped a beautiful selfie to commemorate their momentous day. We're obsessed with the polka-dot suspenders and rose crown, but our absolute favorite part is the elated grin on both of their faces.
From the Album: A Funky Wedding at Bat Haus in Brooklyn, New York
Nick Kluding and Ricardo Mendoza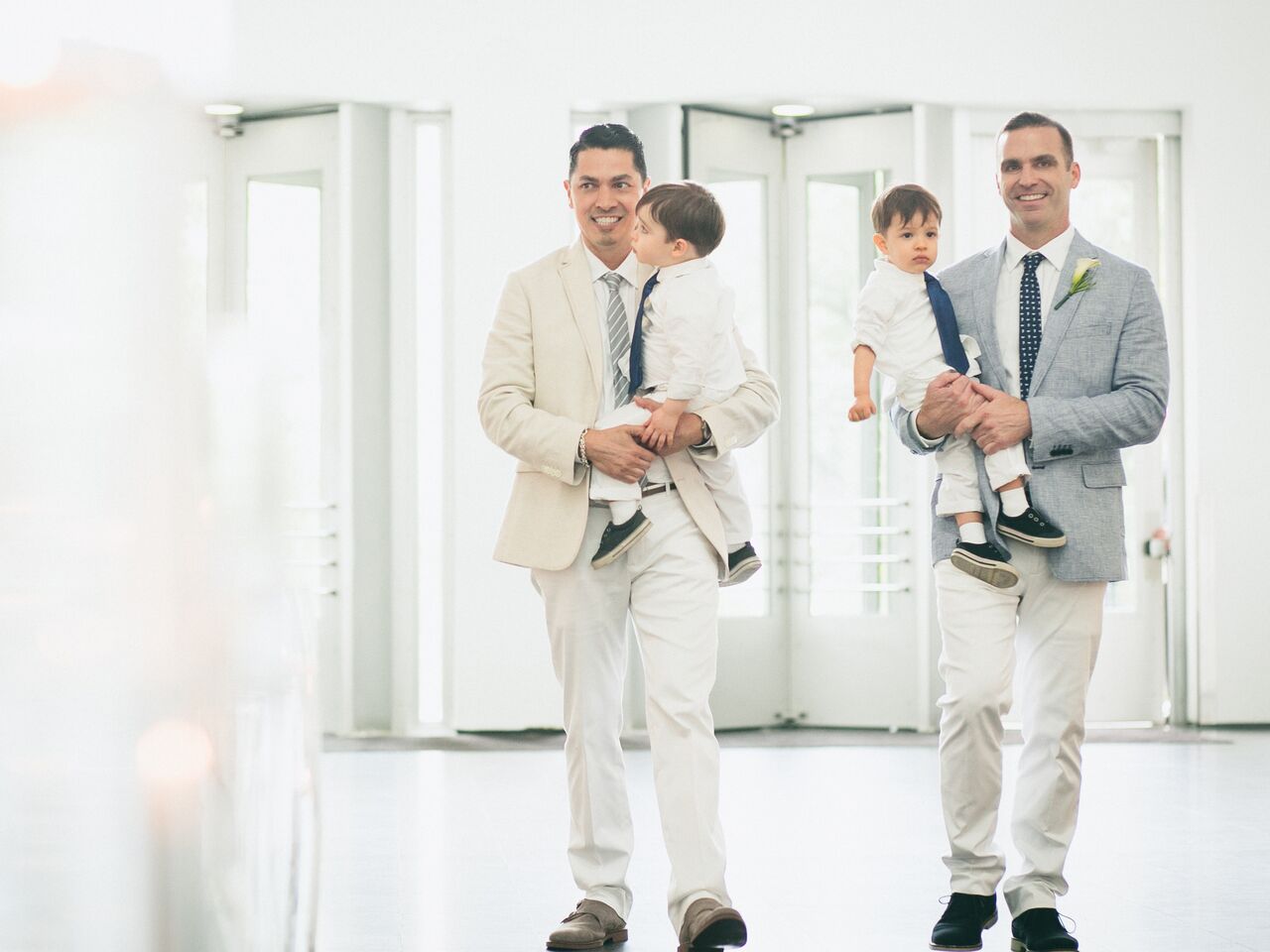 Nick and Ricardo were together for more than eight years before the passage of the Illinois legislation giving all couples the right to marry. The pair was selected as one of 15 couples to be married at the Museum of Contemporary Art, Chicago in honor of the historic decision. Here, they carry their adorable sons and ring bearers, Mateo and Marcelo, through the museum's modern and intimate Kovler Atrium to exchange vows in front of their loved ones.
From the Album: A Modern, Artsy Wedding at Museum of Contemporary Art in Chicago, Illinois
Amy Smith and Erin Hamilton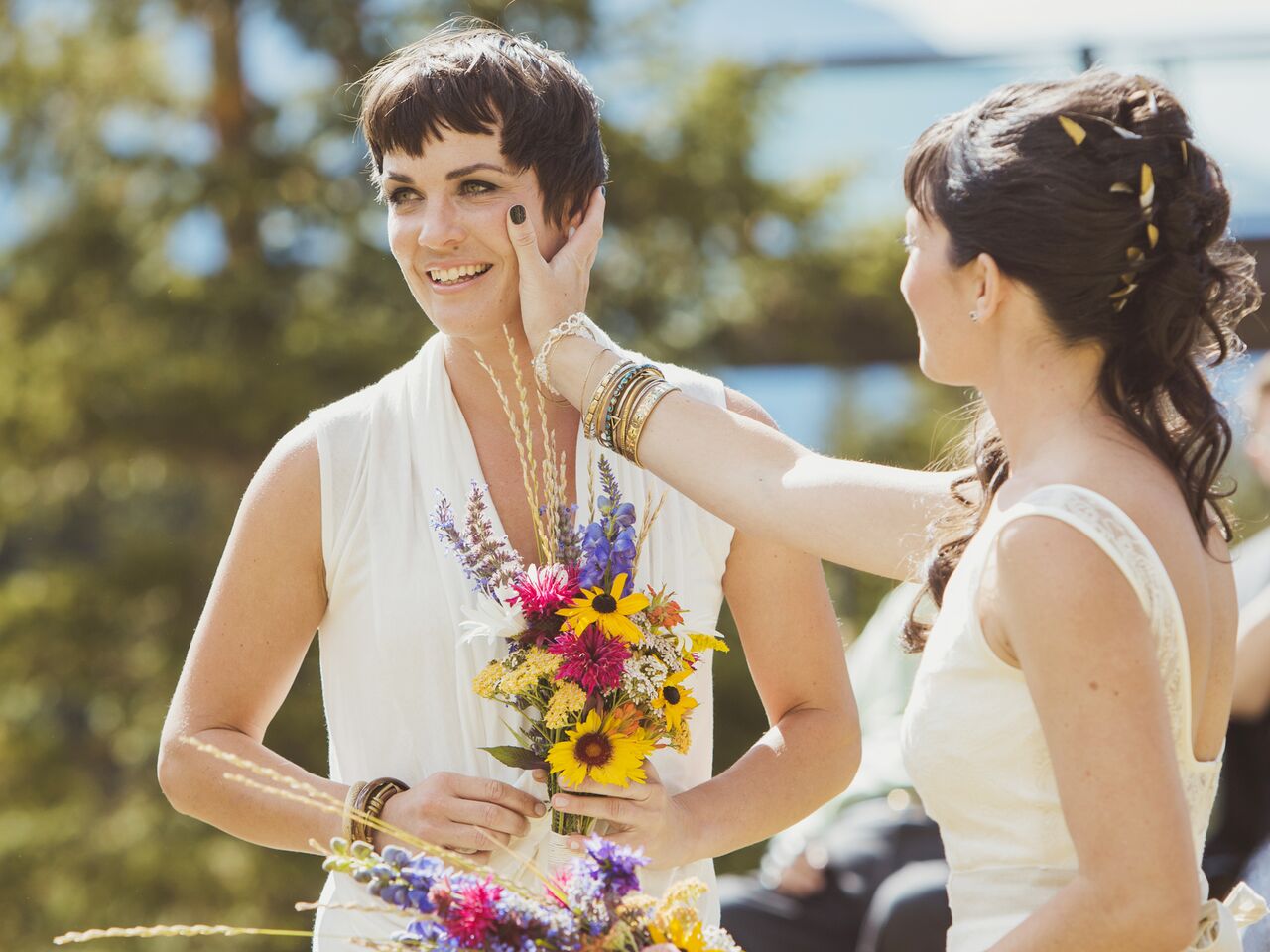 Amy and Erin's outdoor Telluride, Colorado, wedding was rustic, understated and filled with love in every detail. They let the scenery speak for itself and opted for colorful bouquets of wildflowers and various DIY vintage trinkets to adorn their multiday celebration. This candid shot of the couple is poignant in its intimacy and deeply telling of their love story.
From the Album: Rustic, Same-Sex Mountain Wedding at a Private Residence in Alta Lakes, Colorado
Alisha Sare and Kelley Rochna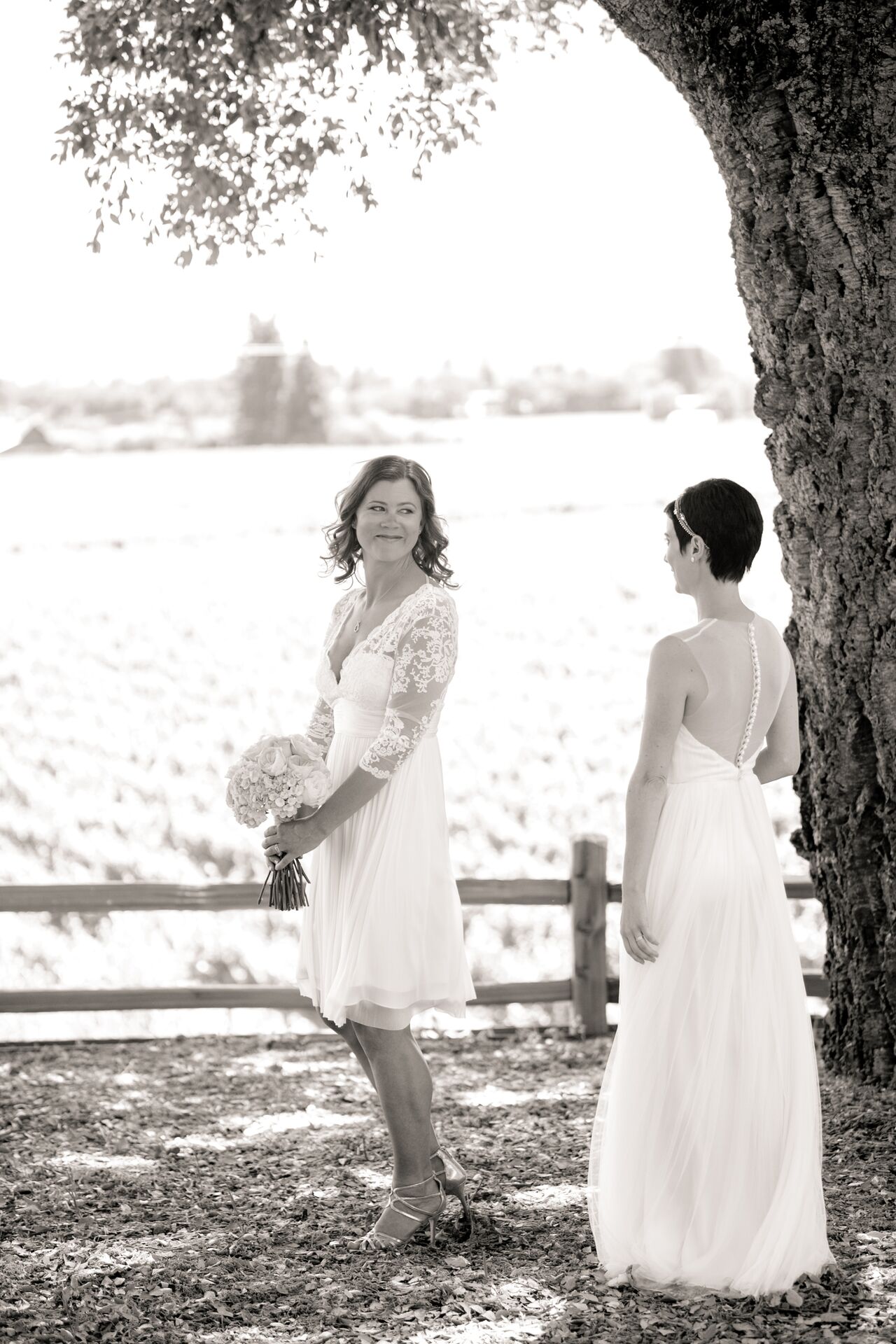 Alisha and Kelley tied the knot at Healdsburg Country Gardens in Sonoma County, California, against the backdrop of a sprawling vineyard. And although their wedding venue was completely gorgeous, nothing matched the expressions on both of their faces during their first look.
From the Album: A Rustic, Country Wedding at Healdsburg Country Gardens in Sonoma County, California
David Everett and Lee Bastyr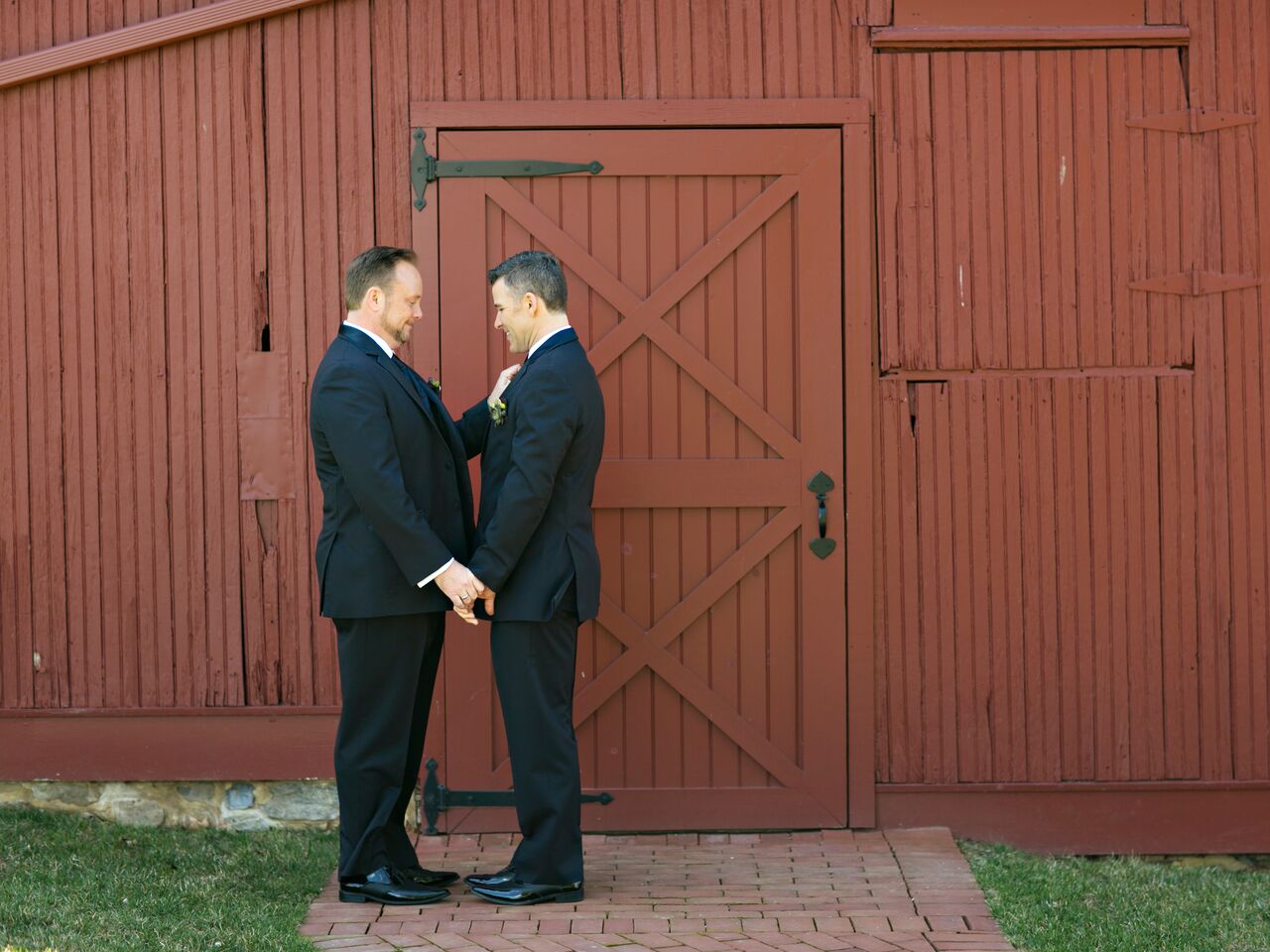 David and Lee had an elaborate, theatrical wedding (think an aerialist performer, a paperboy giving out newspaper-inspired programs and a magnificent six-tier, industrial-style wedding cake) at a farm in Lancaster, Pennsylvania. But even with all the thrills for their guests, this simple yet powerful moment by a barn says it all.
From the Album: An Elaborate Rustic Wedding at the Farm at Eagles Ridge in Lancaster, Pennsylvania