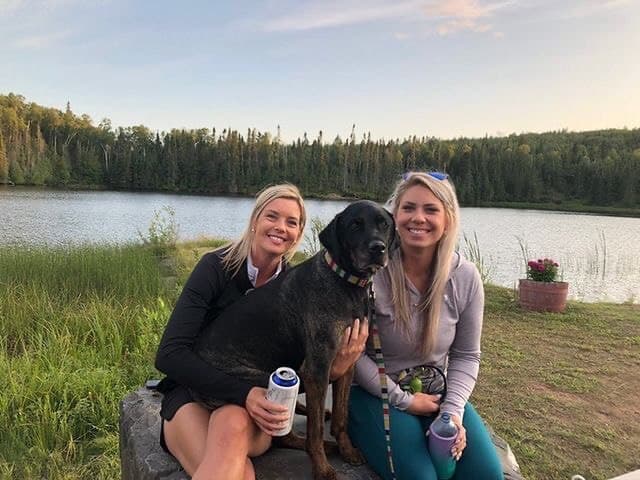 Kathryn and Niaomi
Their paths first crossed 10 years ago through mutual friends when both were in relationships with men. 
After becoming reunited in a local bar, Niaomi was playing in a hockey tournament and Kathryn was having a drink with a friend after skiing. The two dated for only 10 months, falling madly in love with each other from the beginning.
Kathryn had been in a lesbian relationship before and never felt the need to "come out". Niaomi's experience was different and she did feel the need to "come out" to live as her true authentic self. The two are grateful for the army of supporters who have met them with love ❤️
Kathryn: In a unique mutual proposal, we managed to make the most of not being able to travel in the pandemic, and planned something special in our hometown. With matching custom rings, We chose New Year's Eve to propose to each other. 
While we had both been involved in the planning, each of us had little surprises up our sleeves. Niaomi had friends shovel a message onto the dock at the marina these two are familiar with as it's the seasonal home to my uncle's boat the two have enjoyed numerous adventures on and is close to their hearts. I was busy on the top floor of the hotel overlooking the pier, decorating the space and making it perfect for Niaomi's arrival. 
When they entered the room together later that day, Niaomi ran to the window and pulled back the curtains to reveal her surprise to me: "Will U Marry Me" was written in the snow on the dock. This marked the beginning of a slow unfolding of magical surprises and personal touches, including both getting down on one knee at the same time, and asking the other to marry her. Just before midnight on New Year's I and Niaomi exchanged letters to each other we had written in advance to express our love and commitment. 
Spread the Love! Help the LGTBQ+ Community!
Share this love story on social media