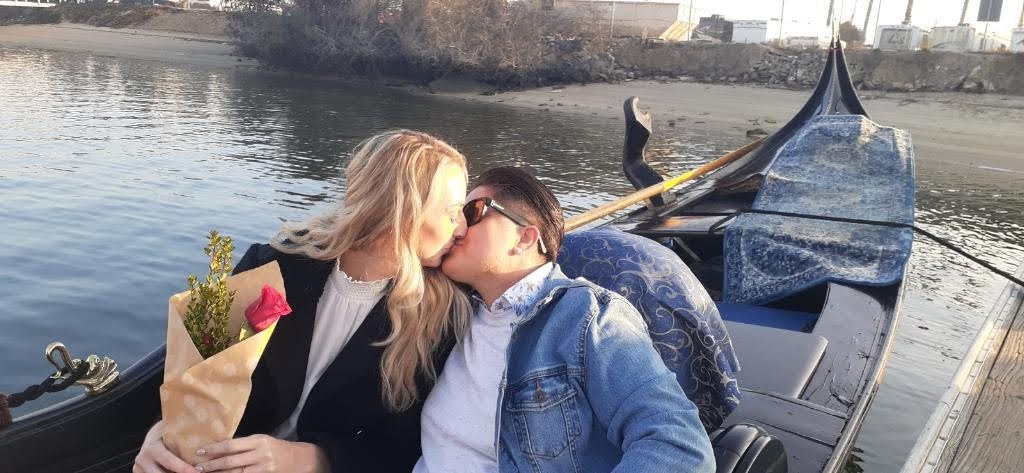 Proposal Story of Ashlee and Crystal
Ashlee: We were first introduced to each other by our parents at church back in 2002. We immediately clicked due to our love for basketball. Crystal would practice with me for hours on end, go to all my games, I don't think she missed one! We were inseparable as friends and I deeply loved her… more than just my friend.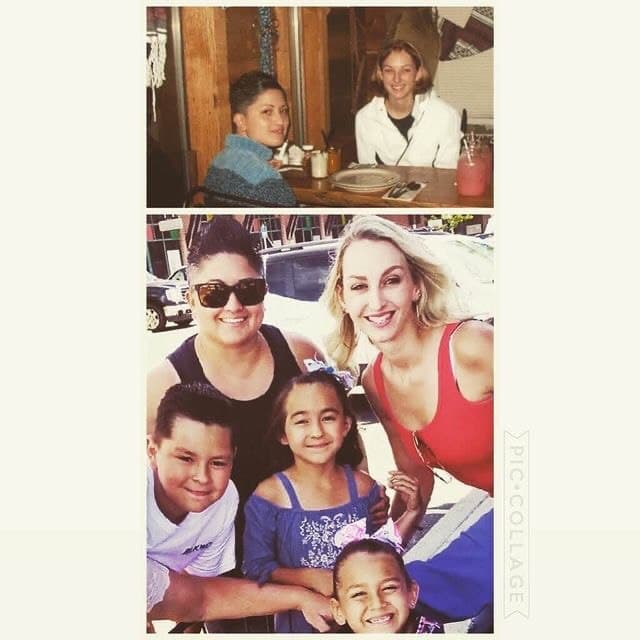 After many moments of being asked "Is Crystal gay?" and me telling my Mom "no," It was not out of shame that I withheld the truth that not only Crystal was gay, but I too was and I loved her deeply. I may have been young, however I knew very well I didn't want to be apart from Crystal, but if the truth surfaced it would become our reality. After coming home from school one afternoon, I was met by my Mom and was told I was never to speak to Crystal again. I was heartbroken, of course my love for Crystal wasn't just going to go away because my mom told me so. Crystal moved back to Los Angeles, I was allowed to help her pack the day she was leaving, but that only crushed me more. I wasn't okay with her leaving, I knew I would forever care for her.
Fast forward a few years and I am living in Southern California and I reached out to her. Both of us in new relationships, get together for lunch. Not long after she comes to my salon and gets her hair done and it's as if it's us all over again from those three or four years prior. My feelings for her were still strong, still very real and I realized I was still in love with her. Again thought, we both part ways not talking again for some time.
I stayed in the marriage I was in for nearly a decade, Crystal moved on to other long relationships over the years. It was in 2015 that I was at a place in my life that I realized it was okay to find my happiness. That trying to "please God and my family" by not getting a divorce was not healthy for me or my children. With three beautiful children, I knew I wanted to be a good Mother and example of what love is, with or without someone I wanted to be present in so many capacities. God wants his children happy and not in a broken home – My Mom of all people told me that after all these years I feared judgement from family and the church.
It was as if in that very instant I knew I wanted to at least reach out to Crystal, see where she was in life. For all I knew we had not spoken in years, maybe she was married with children, and happy?! But regardless I knew I wanted her in my life, even if she would only have me in it as a friend, I wouldn't let her slip away again.
I reached out to her on Instagram with a friend request. To my surprise she immediately accepted. We commented on each other's posts, quickly exchanged phone numbers, spending long hours on the phone, sometimes until that sun came up. We were both in a new place in life, newly single after being with the wrong people for too many years. Now to be in the perfect place, stronger women than ever before and excited at what our future might hold.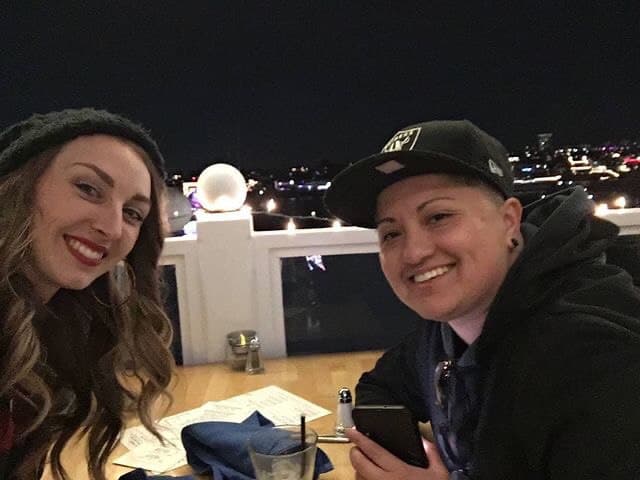 I went to visit her 10-30-2015 and have been inseparable ever since. We have been through so much together since then, 7 deaths within 11 months between both of our families, selling of a home, relocating out of state, living in an RV and traveling for 18 months, career changes, purchasing a home together and raising our three beautiful children Ocean (13), Citlali (10) and Zyelee (9).
We both had voiced our fear around marriage on paper and what that may look like, and yet we had a mutual life and love commitment to each other. I never knew if Crystal would ever ask me to Marry her, but it always was a desire of my heart to share this with her, to carry her last name, to know that for life she really would choose me.
Ashlee: It was on January 8th, 2021 that my dreams came true. Crystal had requested a few weeks prior that I get the day off so we could celebrate my birthday early before our kids go back to school. She had been telling me that her and our kids wanted to have a picnic at the beach and had a surprise for me after. So we start to get ready, and quite a stressful morning after our kids woke up tired and grumpy which of course left me stressing out, on top of that our power goes out for a scheduled outage we totally forgot was happening that morning. So frantically, we finish gathering our things to head to Crystal's family's house to get ready there. A little behind schedule we head towards the beach.
We had a delicious lunch at a restaurant rather than at the beach, so we could make it to our next reservation. They brought my birthday presents to the table for me to open at lunch, so I was definitely feeling the birthday vibes.
Excited for whatever they had planned next, we arrived at Gondola Adventures for this amazing Birthday Celebration. The gondola was filled with rose petals, a rose was wrapped and waiting for me on my chair, there were five chilled glasses, our gondolier took the time to get some pictures of us all! Already my heart was full and so excited that this is how they wanted to celebrate my Birthday!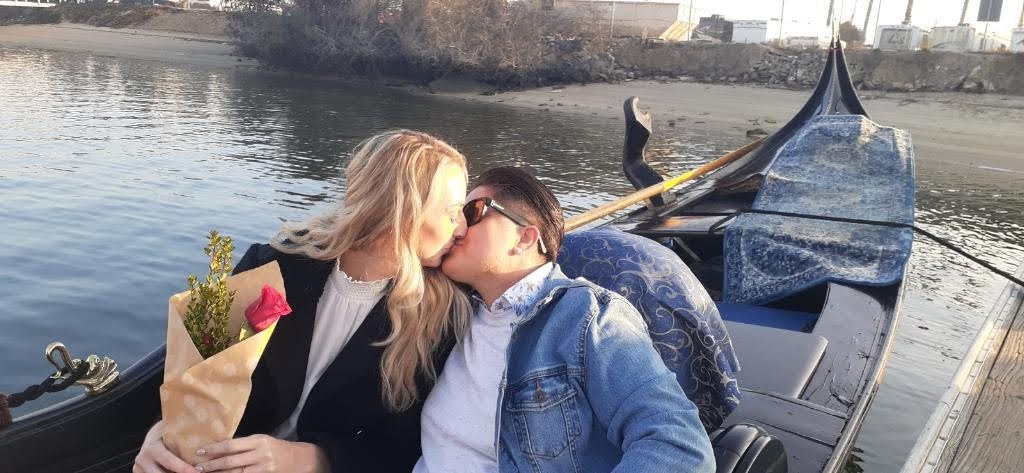 Our amazing gondolier, Kalev, stated there were some rules while on a gondola, greeting all passersby with "Buonasera" (good evening in Italian) was required, and a kiss is mandatory under every bridge we go under. As we approached the first bridge, Crystal told me she wanted a gondola to bring my parents here with us. My father was from Naples, Italy and departed from us too soon after his battle with cancer, I was already crying. Thankful that she would think of that, being on the ocean with her and our three children, I was truly in awe of the beauty in this moment.
Just as we kissed as we went beneath the bridge, Kalev started to sing to us in italian – we both cried tears of joy, of love, of peace and of beauty. We opened the wine and sparkling cider Crystal had brought, the blankets she brought from home were draped over our laps, a toast was made and the stunning views of the Newport Harbor were breathtaking. We proceeded to a more open space in the harbor, where three channels met, our gondolier turned us around pointing out various homes and their unique architecture, the different types of boats and yachts and history of that area.
As he turned us around one final time, there appeared to be a message in a bottle floating on the water just ahead. Kalev steered us right to it, he told me to simply reach down and as the birthday girl I would be the one that got to open it. I carefully removed the corked and pulled on the ribbon wrapped so pretty around this message.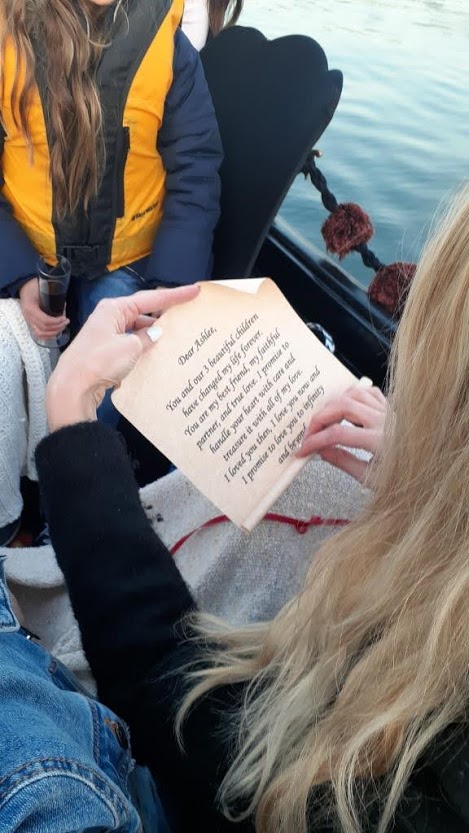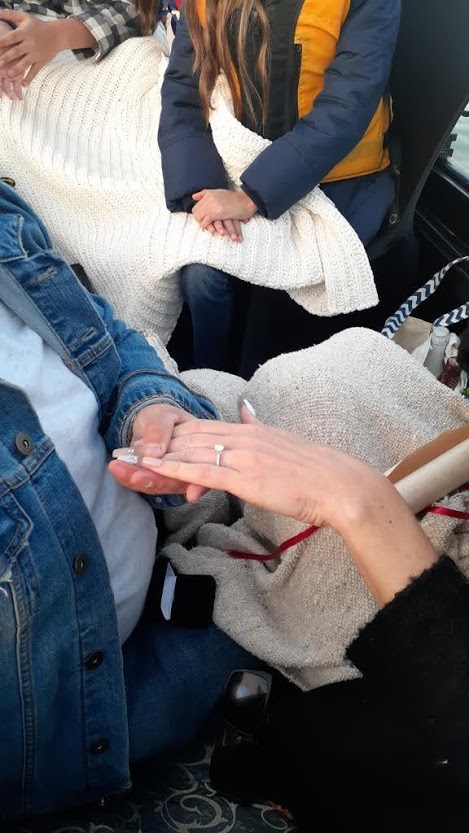 As I opened it, the tears were already flowing, my cheeks hurt from the endless smile, I could hardly make out the words so beautifully written, ending with "I loved you then, I love you now and I promise to love you Infinity and Beyond. Love, Crystal".
After finally reading it, I kissed and embraced Crystal and told her thank you for such a special day and I love you. She responded with the same and told me she wanted to spend the rest of her life with me.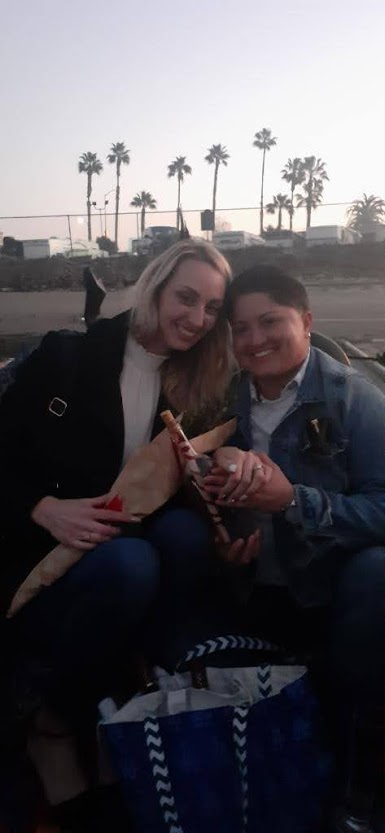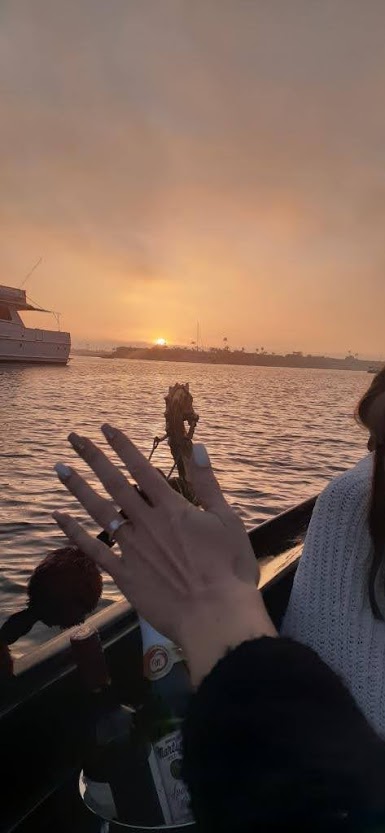 Those words were often spoken between us, so I quickly responded with "I want to spend the rest of my life with you too!" To my complete amazement, Crystal turned to her knee and asked "WILL YOU MARRY ME?" I immediately said "YES!!!!" a thousand times yes! 💍
What made this moment even better is she had a very talented videographer capture it all by drone, the gondolier recorded a video on Crystal's phone who also took tons of amazing photos.. the moment was PERFECT! It was better than the movies, better than I could have dreamt of, a complete surprise and our children not only helped plan but got to witness this perfect moment.
We can't stop smiling, every time I see the ring on my finger it takes me right back to our special day, January 8th, 2021. Cheers to love and light and to a lifetime with you Mi amor! ❤️
Spread the Love! Help the LGTBQ+ Community!
Share this love story on social media