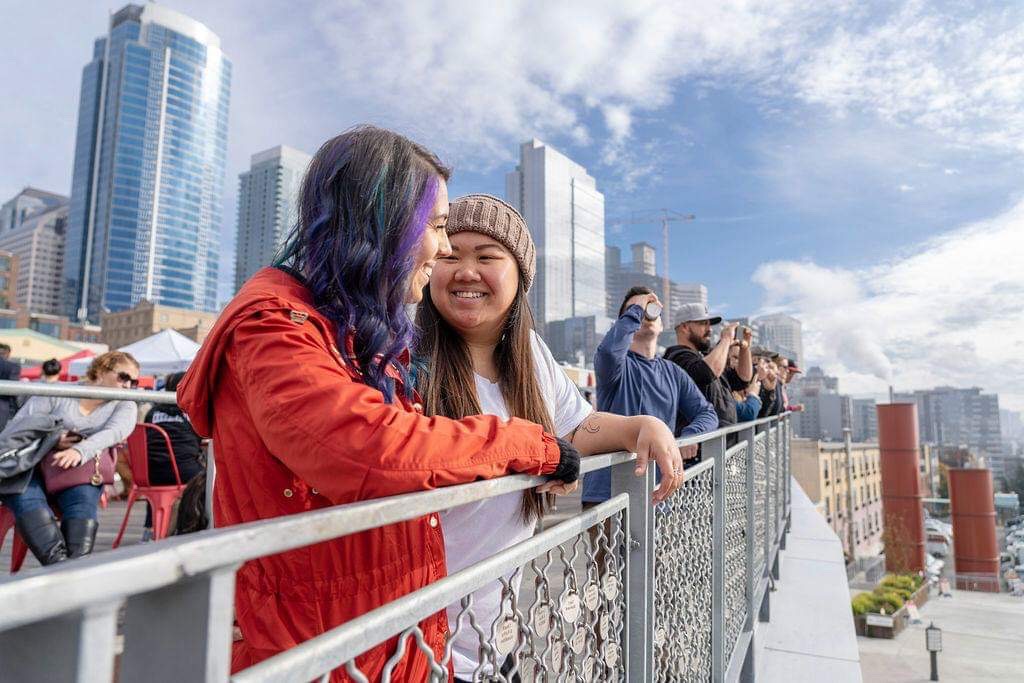 Mycole Muns and Cindy Phu, a couple from Tinder :)
First Date and First Impression
They met in Tinder. Both of them were looking for friends because they were both new to the area.
They went out to eat because Cindy was hungry and then ended up going for a walk in the same park where they first met. They both felt a "spark" that night. They texted for 2 weeks after that before meeting in person again. Then they went to a concert where we had our first kiss. Wild Buffalo House of Music in Bellingham, that was a Fleetmac Wood show.
Difficulties with recognizing as a gay couple with parents or friends
Despite this being Mycole's first lesbian relationship, her conservative republican family was very supportive. Mycole was scared to tell them and shocked by their nonchalant reactions. Their unconditional support showed her how much they love her. Cindy had been out since she was a teenager, so her family was very supportive and welcoming.
Cute nicknames of each other
Mycole call Cindy "cin" "honey" and "babe."
Cinde has MANY for Mycole. She calls her "princess peachita" "Meeks" Meek Mills, and "Meeko".
Weird habits of each other
Mycole:
" – We groom each other like monkeys 🐵."
The topic of the most often arguments
The tone of voice. Mycole very tones sensitive because of her childhood. So she often has to correct her tone and remind Mycole that she isn't trying to harm her – Mycole has PTSD so this is crucial.
Mycole had been planning the proposal for over 6 months with best friend Krista. Mycole ordered the ring at the beginning of March, and then the Coronavirus shut down the production of her jeweler (Alexis Russell). She waited 3 months for the shop to reopen and finally send her the ring. Once Mycole had the ring, she and her best friends and a few of her friends coordinated the entire proposal down at the park where they first met and "sparked".
On the day of the proposal, they went to dinner at the same restaurant where they first ate and then went to the park for a sunset walk. When they got to the spot where they "sparked" all of their closest friends, as well as a huge crowd that had gathered to watch, was waiting for them.

There was music playing (Latch by Disclosure acoustic) flowers from a local flower shop ( a new leaf in Bellingham) and decorations (all set up by Mycole's friends).
Cindy CRIED as she proposed! And then they got to celebrate for a bit with friends (all in masks due to Covid-19).
Their friend took some amazing pictures before they left. When they went one there was still one final surprise. While they were out another friend decorated their apartment as well. So upon returning home Cindy saw balloons, candles, more flowers, signs, champagne 🍾 They spent the rest of the evening in bliss ❤️
Cindy proposed a month later. Using the same jeweler. They were in Las Vegas and went on a sunset helicopter ride. After the ride, Cindy got down on her knee and proposed. She had Mycole's mom decorate their new apartment. So when they got home the apartment was decorated with flowers, chocolates, and romantic music was playing.
Spread the Love! Help the LGTBQ+ Community!
Share this love story on social media