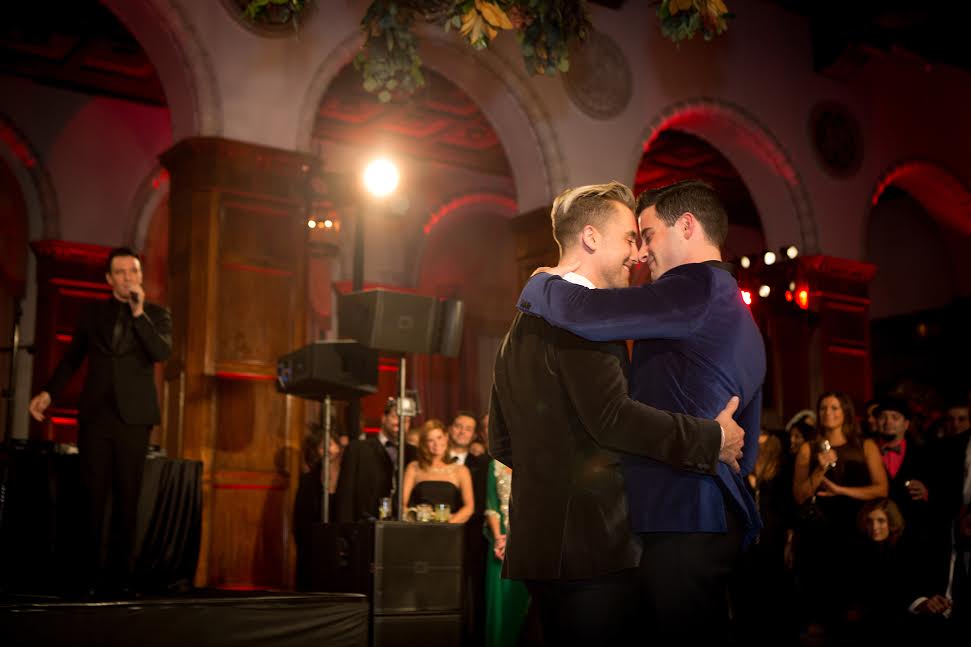 SPECIAL LGBTQ ROMANTIC SONGS FOR YOUR WEDDING
While we love a good opportunity to belt out "I'm Coming Out," there's more to the LGBTQ community than just dancing. Thanks to out-and-proud singers (and allies), gay love songs are in abundance and perfect for same-sex weddings. As you're preparing a playlist for your LGBTQ wedding, you'll definitely want to steal some of these gay love songs for your ceremony processional, first dance or just to insert a slow jam or three into your wedding reception. Adding songs by your favorite queer singers is also a subtle way to add a dose of pride to your wedding.
"Superpower" by Beyonce feat. Frank Ocean
A gorgeous and affecting slow tune about long-lasting love, this beautiful mix of two of R&B's best voices will be a welcome edition to your gay wedding playlist.
"Stay With Me" by Sam Smith
Ok, so we know the lyrics detail a sad end to a one-night stand, but Sam Smith's gorgeous voice and soulful stylings make "Stay With Me" more of a love song than anything else.
"She Keeps Me Warm" by Mary Lambert
If some of the lyrics sound familiar, it's because Mary Lambert sang the hook to "Same Love," Macklemore's ode to marriage equality. Mary expanded the chorus of that song into one of the sweetest gay love songs about her girlfriend.
"If Only You Knew" by Patti Labelle
If you need to be convinced of Patti's status as a gay icon and LGBTQ supporter, just peep her early stance on marriage equality. Politics aside, this is a classic ballad with gender-neutral lyrics that's perfect for LGBTQ weddings.
"Butterflies" by Michael Jackson
The King of Pop was in a particularly sweet mood for this celebration of first encounters, flirting and first dates. The gender-neutral lyrics also make it a great choice for a first dance tune for same-sex couples.
"Million Reasons" by Lady Gaga
A rare peek at Lady Gaga's pop ballad chops, this tale of sticking through tough times in relationships is just as fun to sing along to as it is to slow dance.
"I Still Love You" by Jennifer Hudson
Written as a love note to the LGBTQ community before marriage equality, this is one of the most perfect gay wedding songs to take a twirl around the dance floor.
"Private Emotion" by Ricky Martin
Upbeat and inspirational, Ricky Martin celebrates unconditional love in this sweet wedding song.
"I'm the Only One" by Melissa Etheridge
Rock out with Melissa Etheridge in this ode to enduring love. Not only does this out singer consistently make perfectly fitting gay wedding songs, but this ballad is great for couples who have a low tolerance for sappiness.
"Fool of Me" by Me'Shell NdegeOcello
Atmospheric and full of restraint, your guests will love swaying lovingly to Me'Shell NdegeOcello's tale of helpless love.
"Love is Love" by Culture Club
Long before "love is love" became the rallying cry of America's gay marriage movement, Boy George knew what was up and sang about the universality of love and lovers in this 1984 classic.