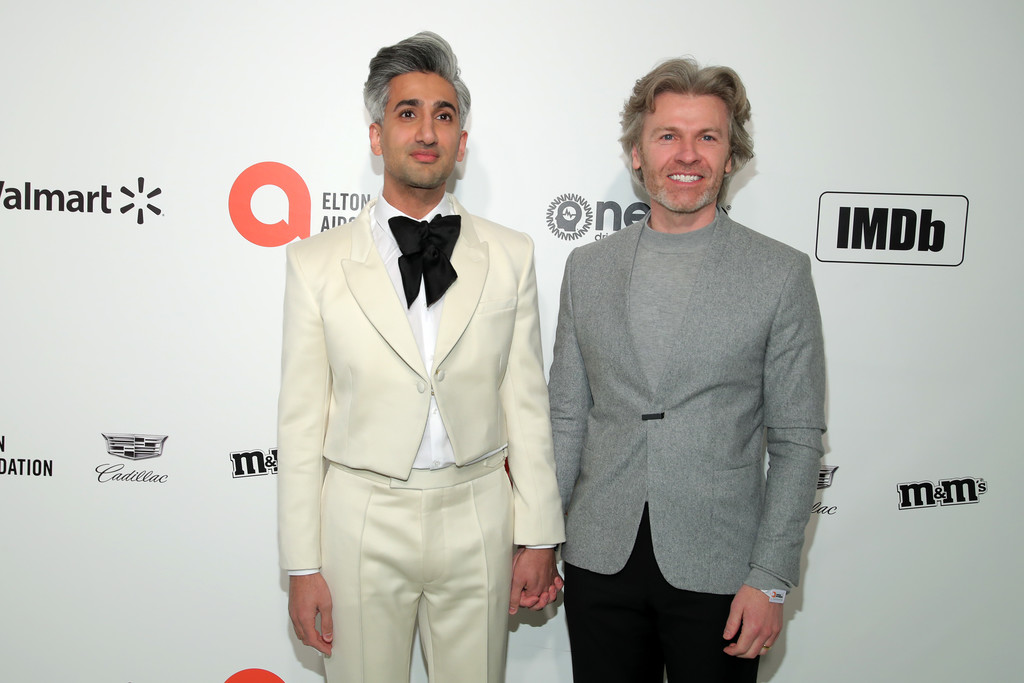 TAN AND ROB FRANCE: THE STORY OF LOVE
There's a lot going on in the lives of Queer Eye's Fab Five right now—especially for Tan France, who is now officially expecting his first child with his husband, Rob France.
The couple has been married for over ten years (!) and, as it turns out, we have Rob to thank for getting our favorite fashion guru to appear on the show.
Yup, in an interview with The Mirror, Tan revealed that it was his husband who pushed him to do Queer Eye, even though he wanted to turn it down.
From their online meet-cute to their growing family, here's everything we know about Tan's husband, Rob.
1. WHO IS TAN FRANCE

'

S HUSBAND, ROB?
He's a self-taught freelance illustrator who sells his unique, original pieces online. According to his official website, he specializes in portraits and figure illustrations. (See his portrait of Tan above).
However, he wasn't always on a career path into the arts. In a 2015 interview with City Weekly, Rob said that he was actually a pediatric nurse who dabbled in art on the side. Oh, and did we mention he has a fairly big social media following?
A pediatric nurse, artist and social media influencer? Pretty impressive.
2. WHERE DID HE MEET TAN?
In an exclusive interview with the New York Post, Tan revealed that he and Rob actually met on a dating website back in 2008 and they immediately hit it off. (We guess some celebrities aren't so different from us after all).
When discussing why the two got along so well—coming from very different backgrounds—the fashion designer stated that religion plays a huge role.
"It made it easier to date somebody who had similarities to me. I don't drink alcohol, I don't smoke," said France. "We practice some of our religions' practices. We don't practice them all. We practice what works for us."
3. WHERE DOES HE LIVE?
Although born in Wyoming, Rob has lived a big portion of his life in Utah—specifically, Salt Lake City. Not too long after the two started dating, the couple knew they wanted to spend their lives together, aka live in the same state. Tan, who was living in NYC at the time, already had a love for Salt Lake, and after quickly falling in love with Rob, decided to make the move.
"We started to date and then, yeah, I realized he was the one very shortly after that," Tan told The Salt Lake Tribune. "So I planned on Utah being my home."
4. WHEN DID THEY GET ENGAGED?
On episode two of season two of Queer Eye, we got a small taste of Tan's non-proposal to Rob.
"You know there wasn't an actual proposal. It was a case of, 'we're going to get married one day, right?' 'Yeah, of course we are,'" Tan told his castmates. "We just had agreed it was going to happen one day and then we arranged the date."
5. DO THEY HAVE ANY CHILDREN TOGETHER?
Not yet, but they have one on the way!
The Queer Eye star recently shared the exciting news on his personal Instagram by posting a shirtless photo of himself holding a sonogram up to his stomach. "So happy to finally share that WE'RE HAVING A BABY!!" he captioned the post before clarifying, "No, I'm not pregnant, despite this VERY realistic pic."
France continued, "With the greatest gift/help of the most wonderful surrogate, Rob and I are lucky enough to be on our way to being parents, this Summer. Something we've wanted for SOooo many years. Our hearts are so full right now. I cannot wait to hold this baby, and to show him so much love."
Before the release of season two of Queer Eye in 2018, Tan opened up to The Press about his desire to have six (yes, you read that correctly) children via surrogacy with his hubby.
"I think that what we do well on the show, or what Netflix did well, was cast five people who are incredibly outspoken and opinionated and vocal and I am one of those people and I feel privileged to be in a position where I get to talk about what I want to do. And if I want to have children I want to talk about it and nobody can say it's wrong and get away with it," said Tan. "I truly do want six. I will settle for minimum four. And no, six is not loads. It's just enough."