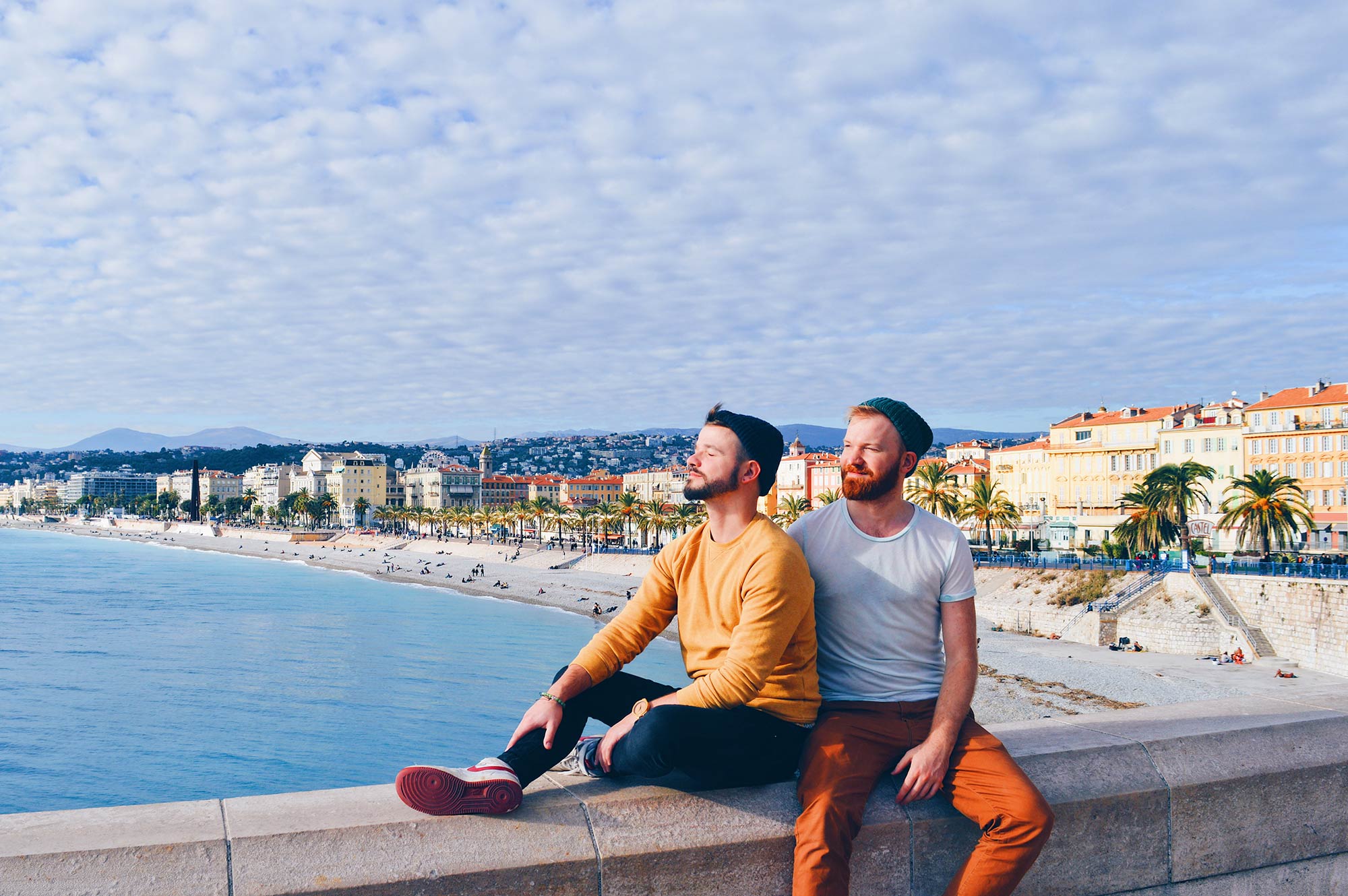 THE BEST HONEYMOON DESTINATIONS FOR LGBTQ COUPLES
In this article we collected the best honeymoon destinations for LGBTQ couple. You can be sure these places are beautiful, breathtaking and for sure LGBTQ friendly.
Skip the crowds in Tulum and head to nearby Merida, Mexico. This city in the Yucatan is one of TripSavvy's favorite LGBTQ+ destinations. Full of life and filled with Mayan and colonial heritage, this manageably sized city is ideal for travelers who want to get in on the region's excellent weather, hang by a pool, and also scratch that itch to explore a bit.
To that end, a good place to start is the alluring and hard-to-ignore Plaza Grande. While the Plaza itself is alluring, there are also plenty of architectural gems surrounding it. The city is also home to many museums, including some dedicated to Mayan culture, contemporary art, history, and more. One of our favorites is Casa de Montejo, which dates back to the 1500s and has history carved into its stone facade. The building once served as a mansion, and is now both a museum with art exhibitions and host to cultural events.
Where to stay: Many of the city's once-crumbling haciendas have been turned into bed-and-breakfasts. One popular retreat is Villa Verde, a 250-year-old colonial mansion owned by a gay couple from Ohio. Standard rooms, as of press time, clock in around $200 per night, which makes it one of the most budget-friendly options on this list. "Relax at the B&B's pool before embarking on a custom city tour with Merida Gay Tours or taking a cooking class at Los Dos, the school founded by the late James Beard-winning chef David Sterling".
Want to head to the South Pacific? Unlike the Maldives, where LGBTQIA+ laws are not friendly, French Polynesia is inclusive. If you want the honeymoon of a lifetime, go to Moorea during the July to October time frame and swim with the humpback whales that migrate there to give birth.
These insanely beautiful islands where the water shimmers an array of blue, turquoise, and cyan colors are also popular for their overwater bungalow rooms, which you've surely seen while scrolling your IG feed. Coral-reef snorkeling, deep-sea diving, four-wheel drives, boat tours, and hiking the extinct Mount Otemanu volcano are popular activities when on the islands. But, the best thing to do in French Polynesia regardless of where you end up staying is to simply relax—it is your honeymoon, after all.
Where to stay: In Bora Bora, opt for a King Overwater Pool Villa at The Conrad Bora Bora Nui. These stunning rooms are a blend of contemporary and Polynesian style and come with their own private pool so you will truly never need to leave if you don't feel like it. The hotel also boasts an overwater lounge, a swim-up bar, and a hilltop spa with open-air treatment spaces. There's even a private island just a short boat ride away that's ideal for romantic dinners.
In Moorea, we recommend Sofitel Kia Ora Moorea, where you can expect to find plenty of French sophistication in its 113 bungalows. The property is also home to leafy gardens and a lagoon. It's even located a stone's throw from one of the island's best white sand beaches, Temae.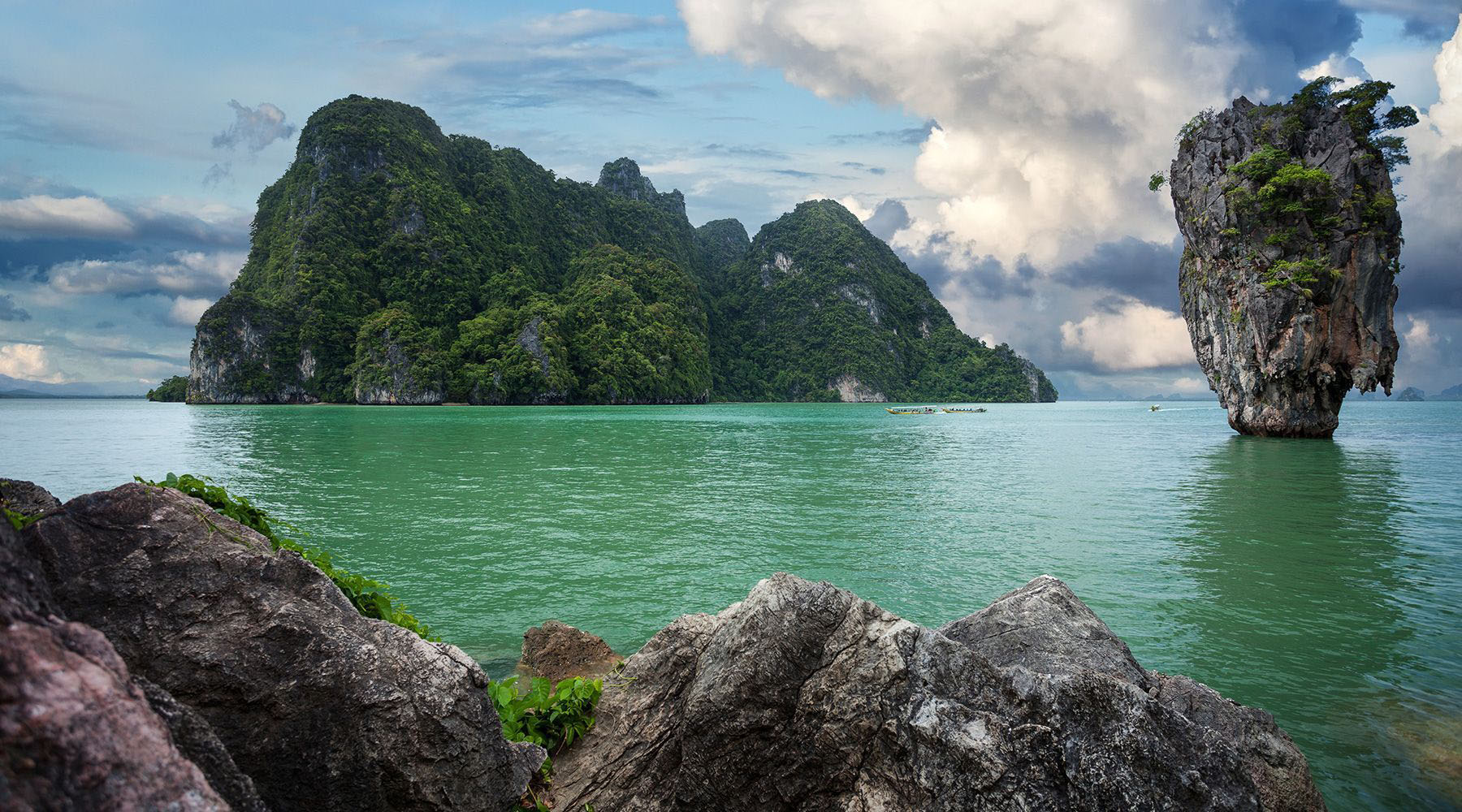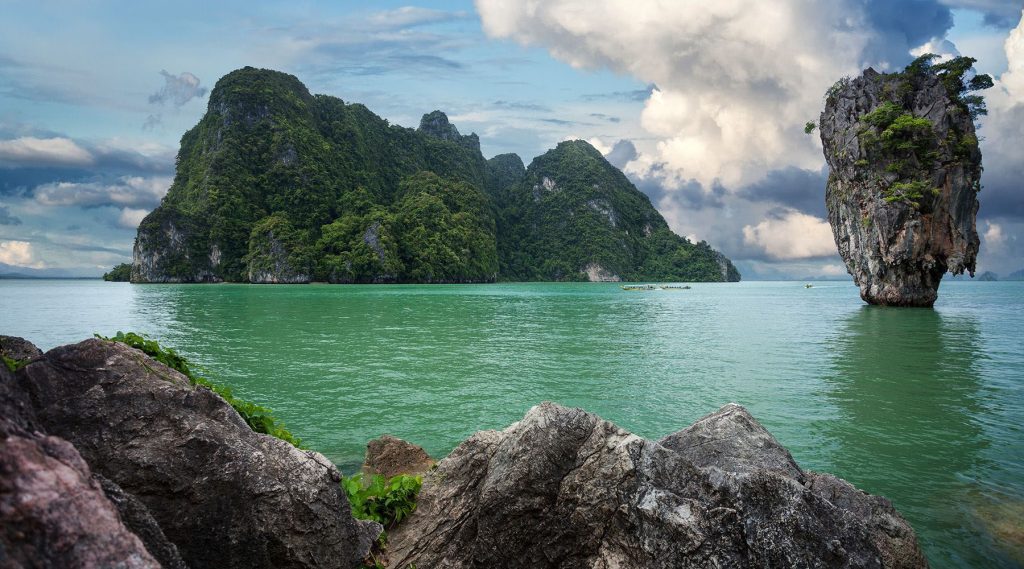 Get the best of nightlife and water sports in Phuket, which is a place like none other. Thailand is well known for having one of the best LGBTQIA+ scenes in the world, and is very gay and transgender friendly.
Looking for a more relaxing vibe? Couples who enjoy spa services will also appreciate the myriad of options that are sprinkled across this beautiful island and can take advantage of couples' massages along with other treatments at a fraction of what it costs in the US.
Where to stay: With a long, rectangular infinity pool that seems to stretch for days, COMO Point Yamu Phuket is already a favorite for couples on the Thai island. Situated on the tip of Cape Yamu on Phuket's peaceful eastern shores, this luxe property appears to be surrounded by glittering water on all sides, with guest accommodations that range from contemporary bay-view rooms to suites with their own private pools and even some gigantic villas.
The property further calls out to water-obsessed individuals by offering charter services for private boats. Whether that's a traditional long-tail or a 76-foot motor yacht, it's a romantic way to spend a day of your honeymoon exploring the surrounding beaches, ancient rock paintings, caves, and other intriguing nature and wildlife.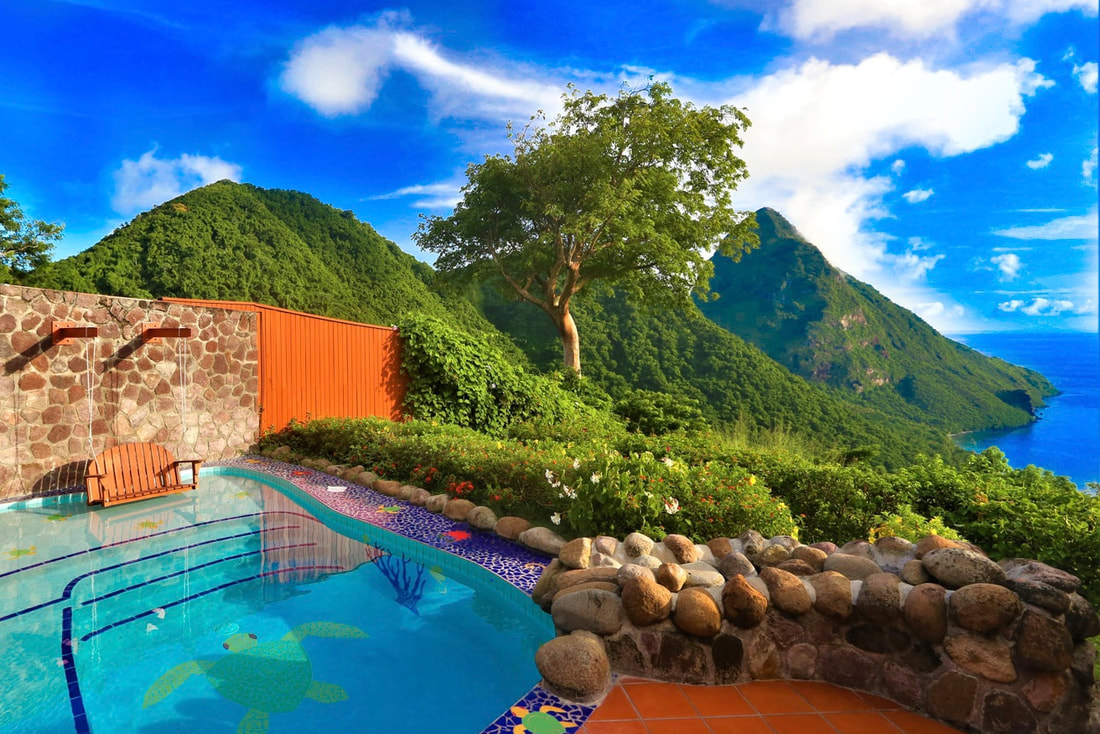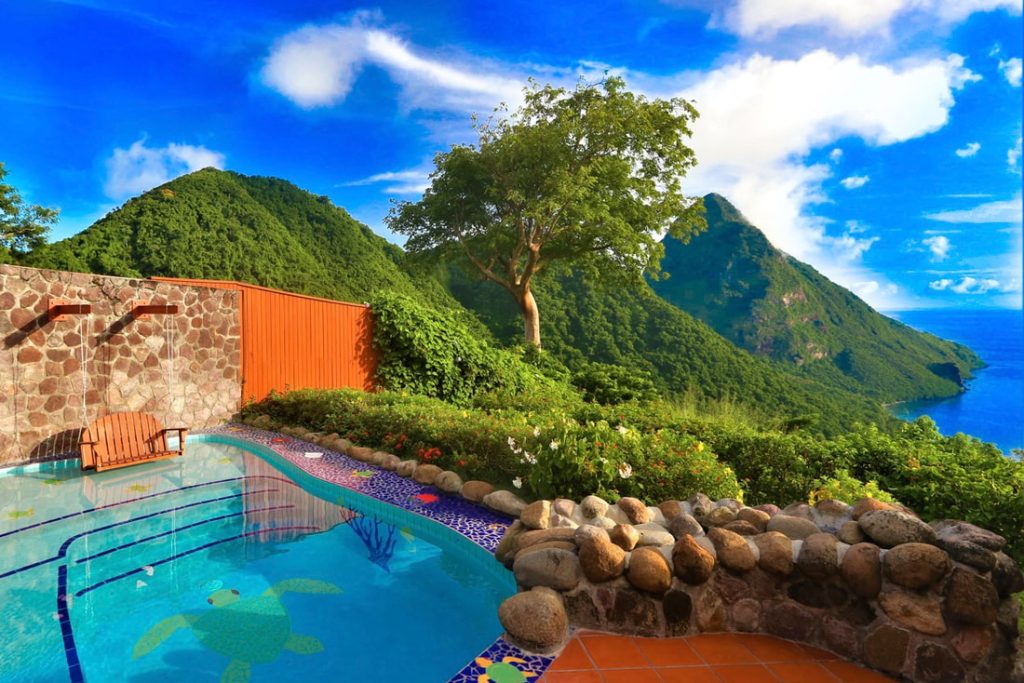 While it's important to note that gay marriage and certain protections for queer folks are still not in place here, the island of St. Lucia and its warm, Caribbean spirit is friendly towards LGBTQIA+ travelers. Along with dramatic peaks like Les Pitons and lush, tropical scenery, the island boasts a drive-in volcano, sulphur springs, and breathtaking botanical gardens.
St. Lucia has something for couples of all types. Whether you enjoy lounging by the beach, hiking in the mountains, or water sports, this picturesque destination remains to be a top [choice] for honeymooners. The island will make you want to go with the flow and focus on your S.O.—and that's the whole point if you ask us.
Where to stay: There's a reason why the Jade Mountain resort's sanctuary pools have become Instagram gold. You've probably seen shots of travelers filling up your feeds with these dramatic snaps featuring the Pitons on full display. With tasty cuisine, 24/7 butler service, plenty of on-site activities, and access to Anse Chastanet—one of St. Lucia's best beaches—it's also simple to see why this property has become de rigueur and highly sought after by honeymooners worldwide. Opened in 2006, LGBTQIA+ travelers will feel comfortable in the well-kept, gigantic guest "sanctuaries" which are thoughtfully built without a fourth wall. That means you are fully exposed to nature and those amazing views from your room. In the Moon Sanctuary suite, for example, you can expect a raised jacuzzi tub that overlooks the view along with plenty of places to lounge about and a romantic four-poster bed complete with a mosquito net.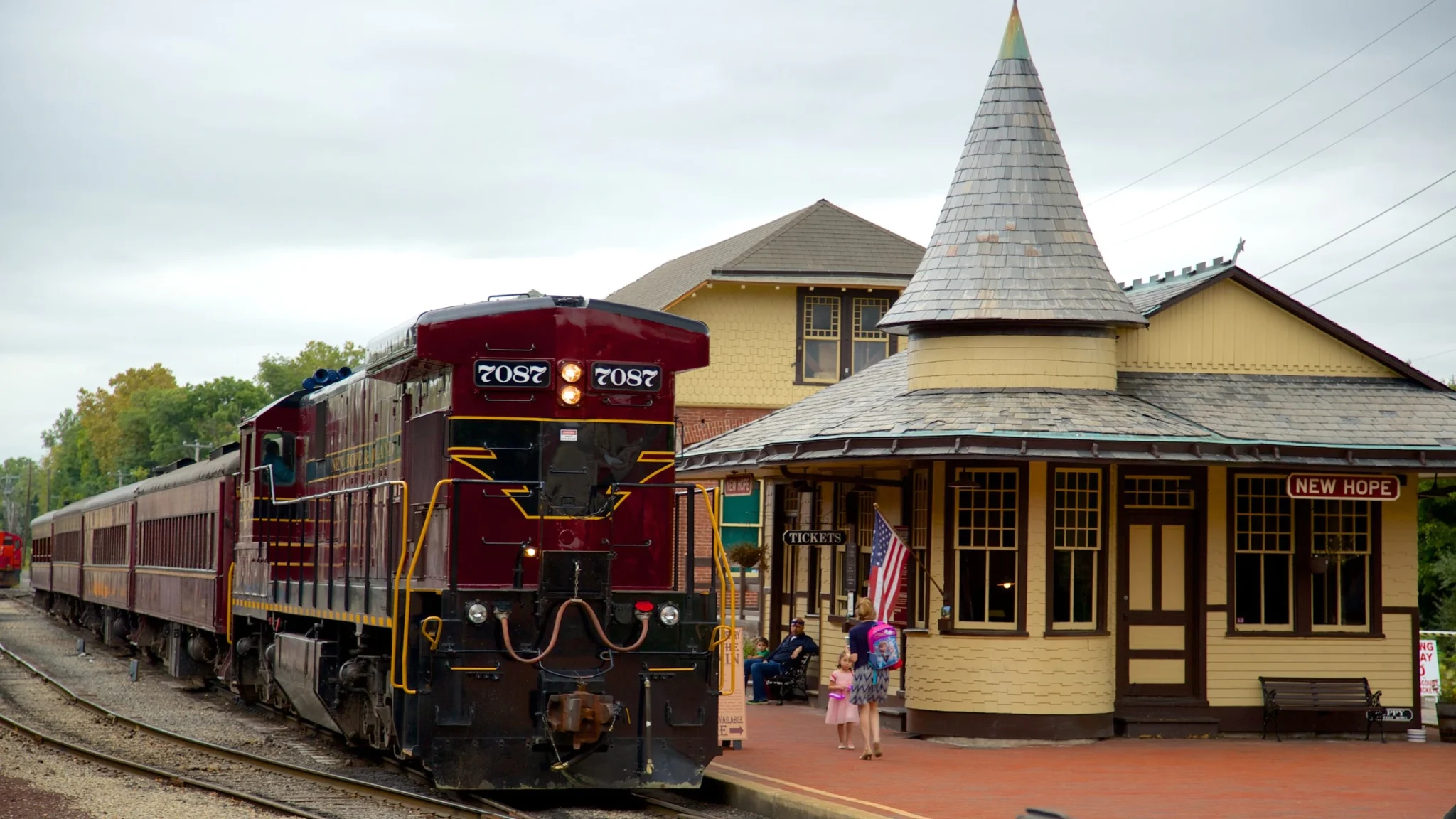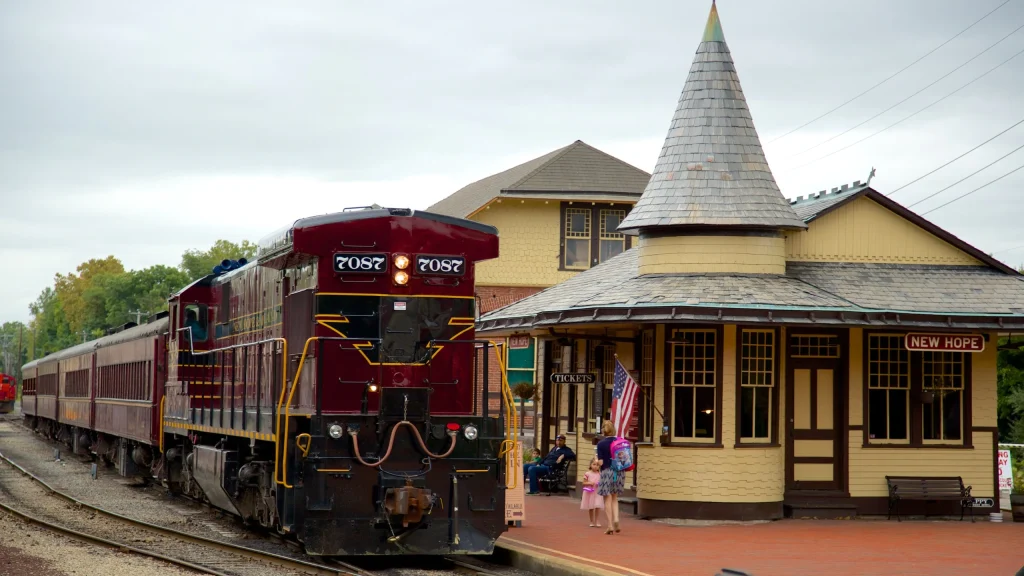 Just 60 miles from New York City and 30 miles from Philadelphia, New Hope is a super inclusive, artsy town with lots of places to explore. Artists have been coming to New Hope to visit and work since the 1940s. Over the decades, it has grown to become a very popular hangout for the LGBTQIA+ community. New Hope typically hosts a highly festive and popular Pride festival every May.
With plenty of outdoor activities to partake in outside the small, charming town along the scenic Delaware River, New Hope offers a slower pace and an unexpectedly pleasant spot that queer couples will fall in love with. One draw is New Hope's adorable and notable Bucks County Playhouse, which is situated on the site of a former grist mill on the banks of the river.
Besides cruising Main and Bridge Street's many art galleries, charming boutiques, and specialty shops, honeymooners in New Hope will want to come here with an appetite to enjoy the town's fresh food market, Ferry Market, plus all the other unique dining experiences. Some favorites include Stella of New Hope, a restaurant that likes to highlight local ingredients and produce, the fine, contemporary American cuisine at Meadowlark, and Salt House, a tavern housed in a creaky and very cozy, 18th-century stone building.
Where to stay: The River House at Odette's is a luxury hotel steps from everything in town with views overlooking the Delaware. The hotel, which is filled with posh rooms fashioned in bold prints, textures, and patterns, also boasts a handsome Piano Lounge with a stone-faced fireplace, a tasty on-site restaurant, and a relaxed rooftop bar with breathtaking views that's exclusive to members and hotel guests.
Couples seeking to take in New Hope's more bucolic surroundings can also look into a stay on a country estate at the nearby Inn at Bowman's Hill, The Inn at Barley Sheaf Farm, or the gay-owned Pineapple Hill.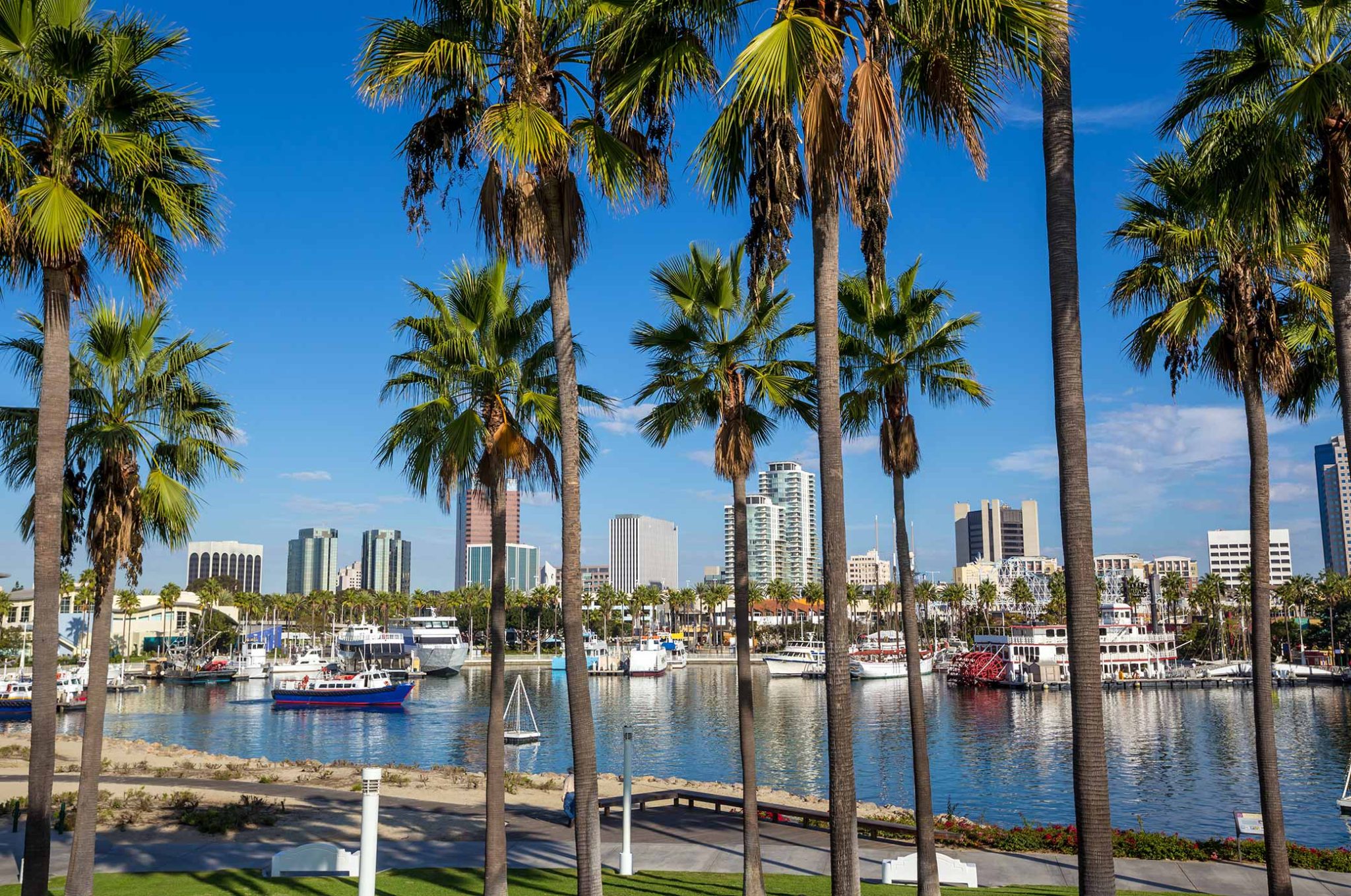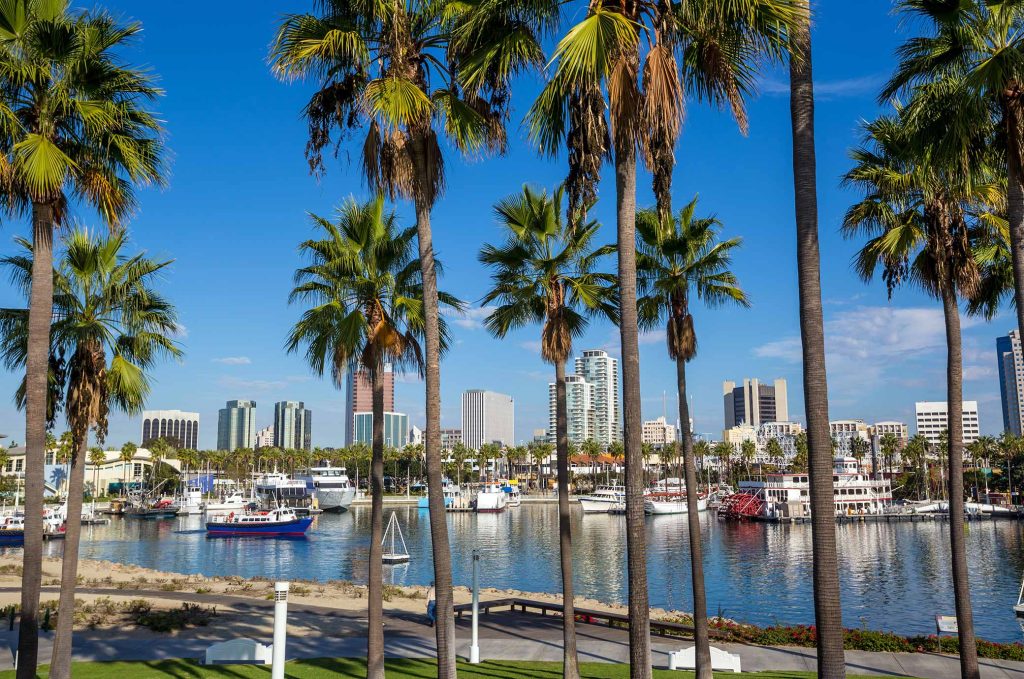 Long Beach has an impressive number of LGBTQIA+ businesses, so you can not only have fun but also support [queer] business owners. Each May, Long Beach also has a pride festival that attracts almost 80,000 people.
Need another fun activity? People come here for whale watching, yoga, biking, the picturesque Lions Lighthouse, Venice-style gondola tours on canals, and more. While in town, George's Greek Cafe and Thai District are outstanding gay-owned restaurants you can support. You're also a hop, skip, and a car ride away from queer mecca West Hollywood, as well as prime parts of Los Angeles and Beverly Hills.
Where to stay: While there are many fine hotels in the area, honeymooners in this Southern California locale will appreciate having private digs in a guesthouse, bungalow, or private residence that includes a pool. With plenty of options to choose from available on Airbnb—many offered at $200 per night or under—it's another great destination for budget-minded travelers who'd prefer to forego often-costly international flights and hotels.