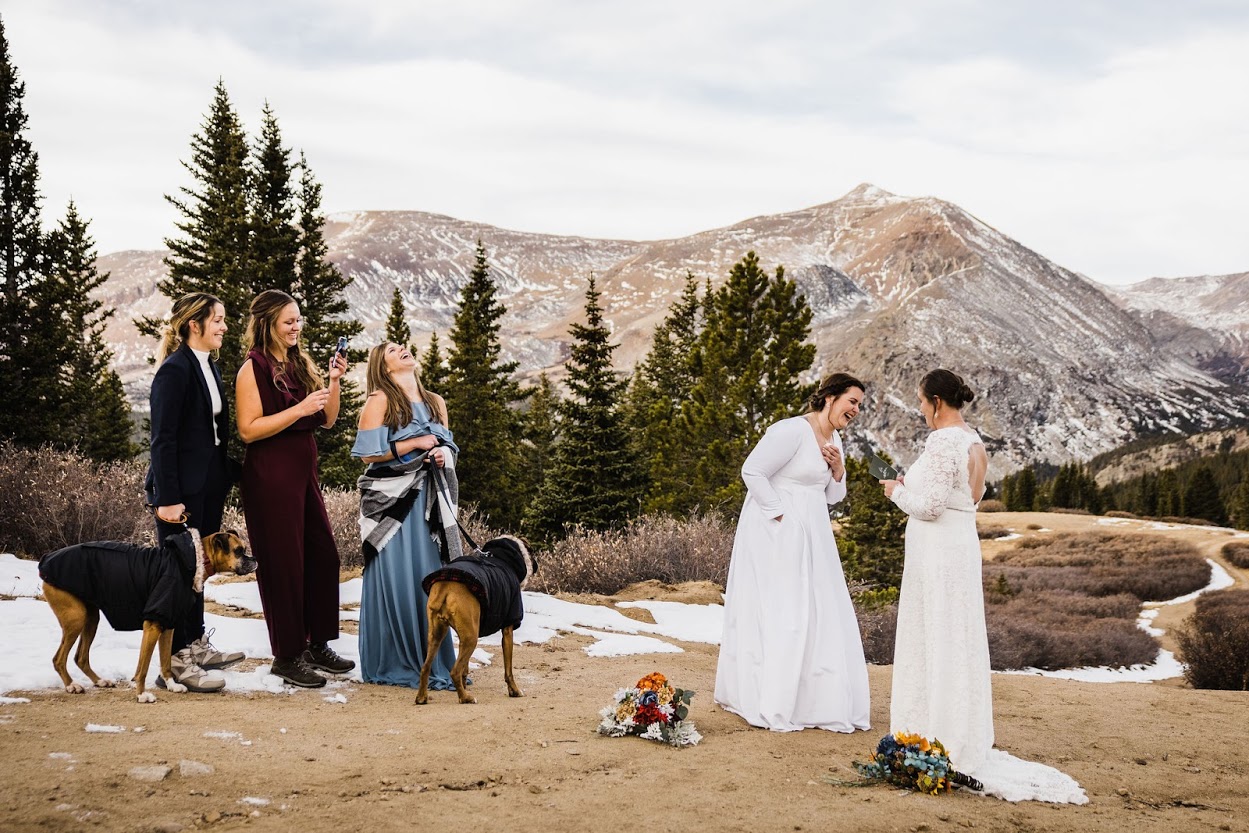 Heather and Sarah's Love Story
Heather 27 and Sarah 32, together for 6 years (on July 23, 2021)
First "I Love You".
Heather:
"
Sarah would catch herself almost saying I love you when she would leave out the door, mostly out of habit but I think she knew early on too. She finally did and I quickly reassured her the feeling was very much mutual."
First kiss.

Heather: "At S4, second floor at the drag show. There was a pause between songs, we locked eyes, and when Sarah leaned in she asked  permission to kiss me on our first date, and I gladly said yes and leaned right in for it."
Difficulties with recognizing as a gay couple
Heather: "Yes, Sarah's family is extremely conservative, with lots of sisters. Oddly it's just her sisters, dad and stepmom the rest of her family embraces us as a couple as does mine."
Support from parents or friends now
Heather: "We are so blessed by our big chosen family blended with our present family! It doesn't take away the pain we feel from the exclusion by those individuals hut it does make the hurt sting a little less."
Heather: "Sarah calls me "my lady" from GOT, and I call her "my heart". We differentiate our profiles by Wife for Sarah and Wifey* for me because the * feels a little sassy like me."

Weird, cute habits of each other
Pretending to freak out, then side-eyeing the other until one breaks down laughing.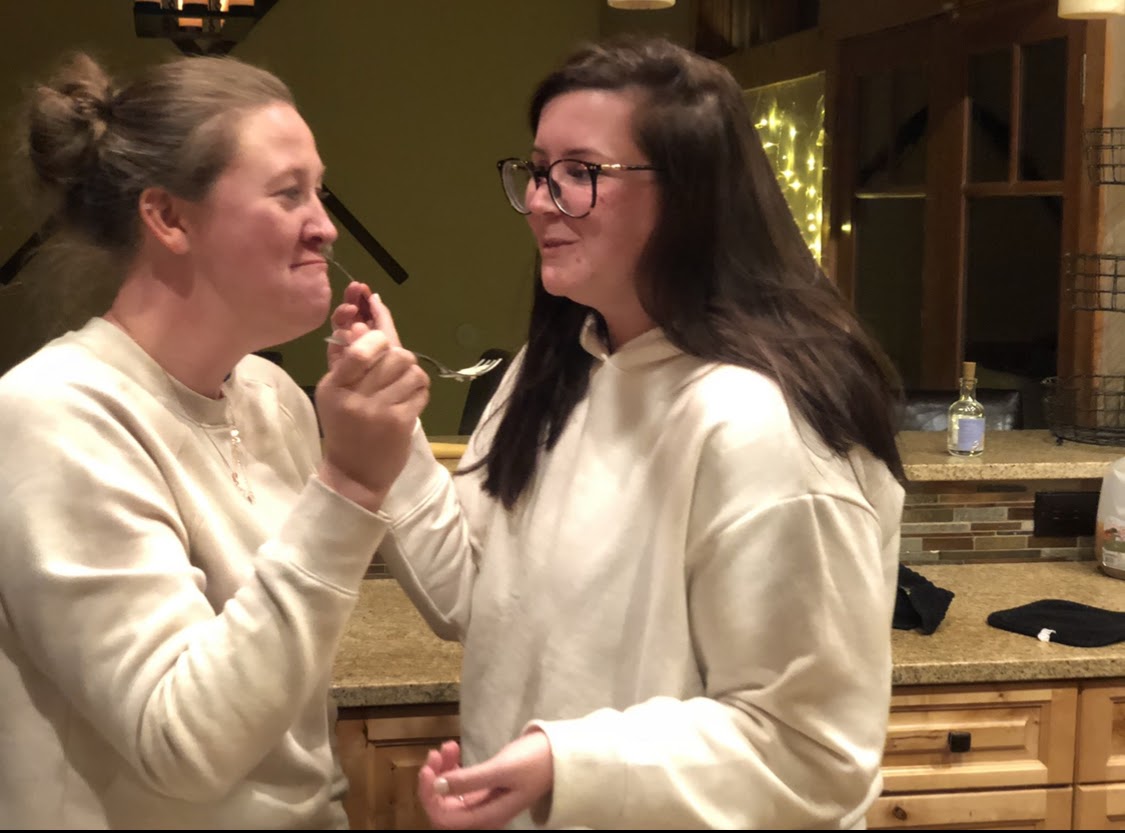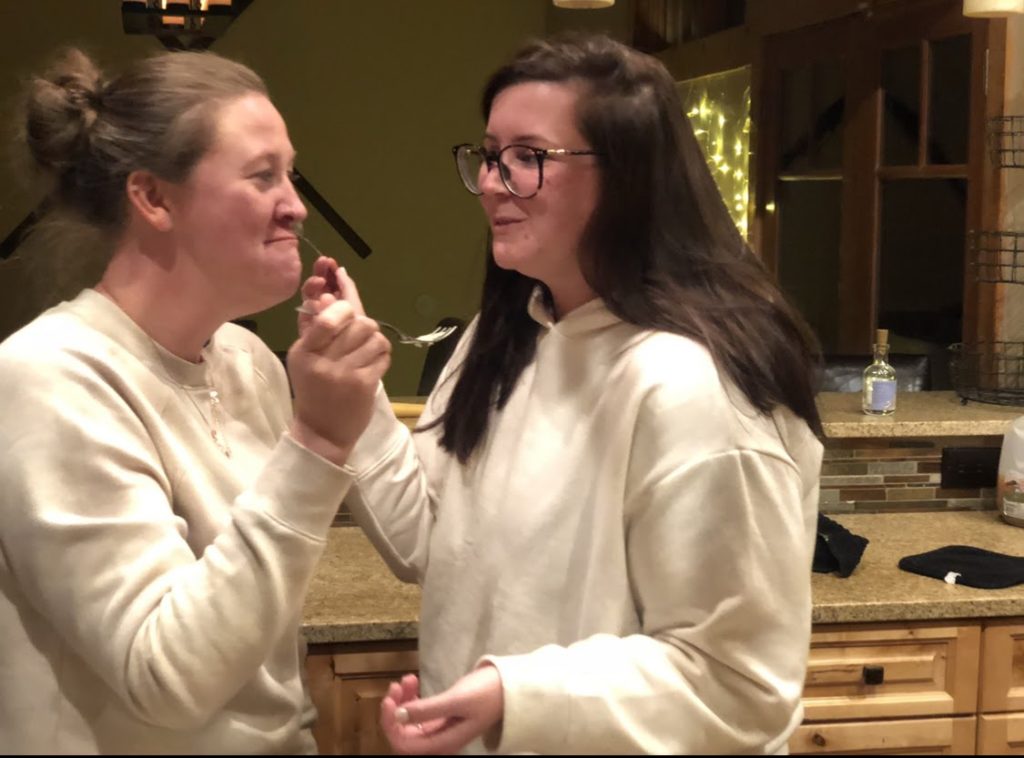 Heather: "We did a puppy announcement on Facebook when we did the lesbian thing and got a dog together a few months in."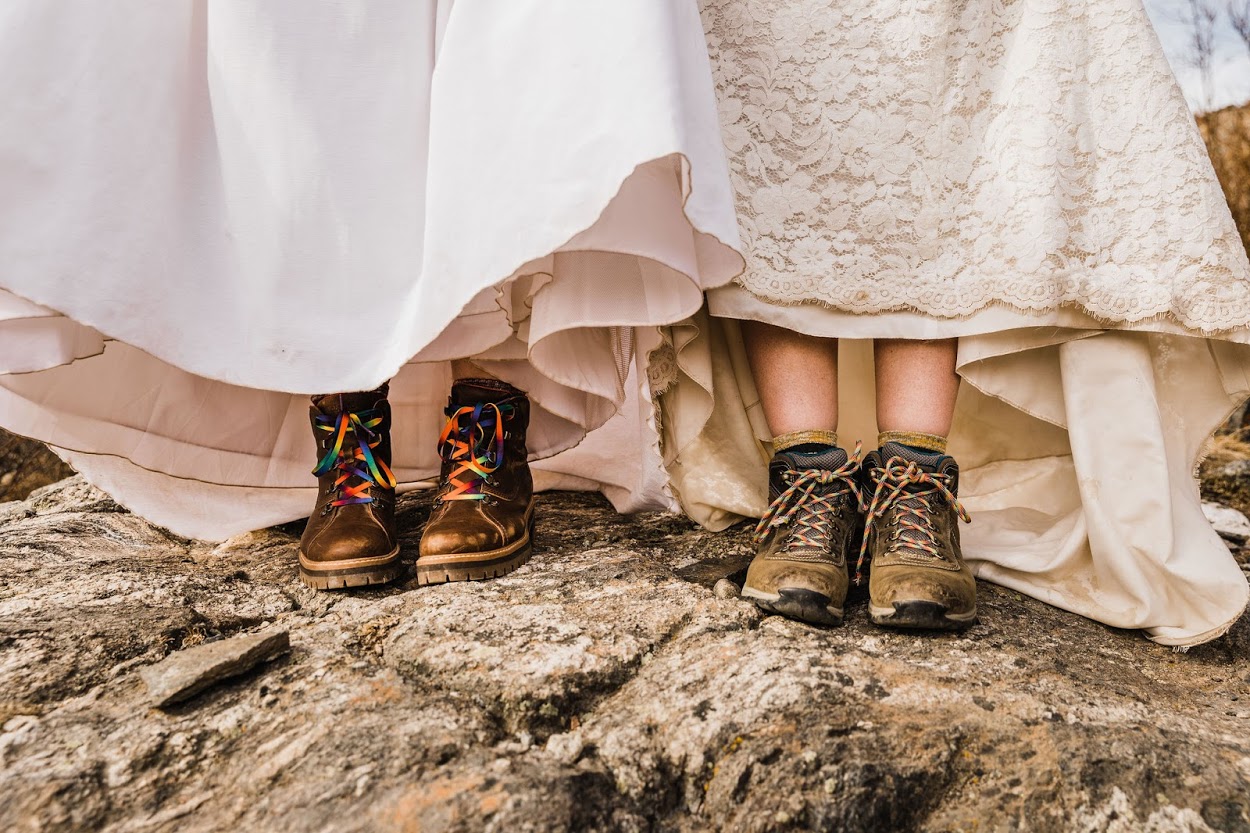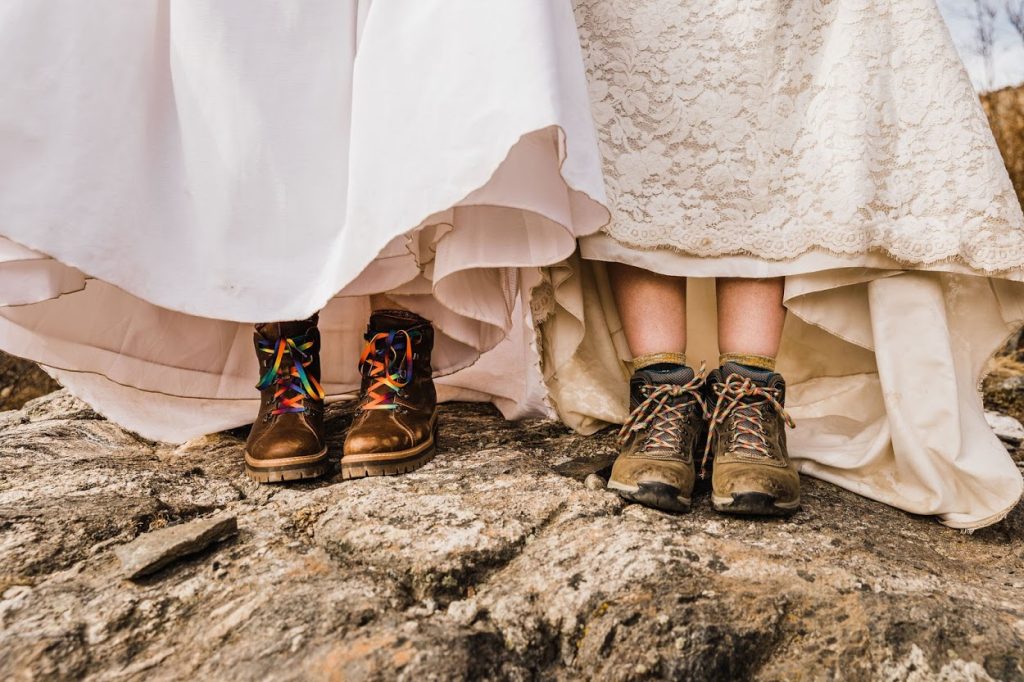 Heather: "We collect ornaments and anywhere we eat if calamari is a dish we have to order it for an appetizer."
Family plans for the future
Heather: "We would like 2-3 kids."
Heather: "Sarah had a gazebo set up with lights, pictures and music playing to walk up to with our friends hiding around back behind some trees. Initially she blind folded me for the first time which should have been the first clue. She drove me down the side of the road where our friends had pitched in the road various signs of Sarah professing her love and devotion to me.
All the way was playing a list of our songs all the way up to the gazebo where she popped the question! We made our way back to a friends house where their old barn was made into a reception party, and you bet we partied the night away."
Heather: "We eloped at Hoosier Pass on the Continental Divide on Nov 6 2020. We had to move our location from Estes park because of the Cameron peak and other fires, I was pretty frantic for the last two weeks."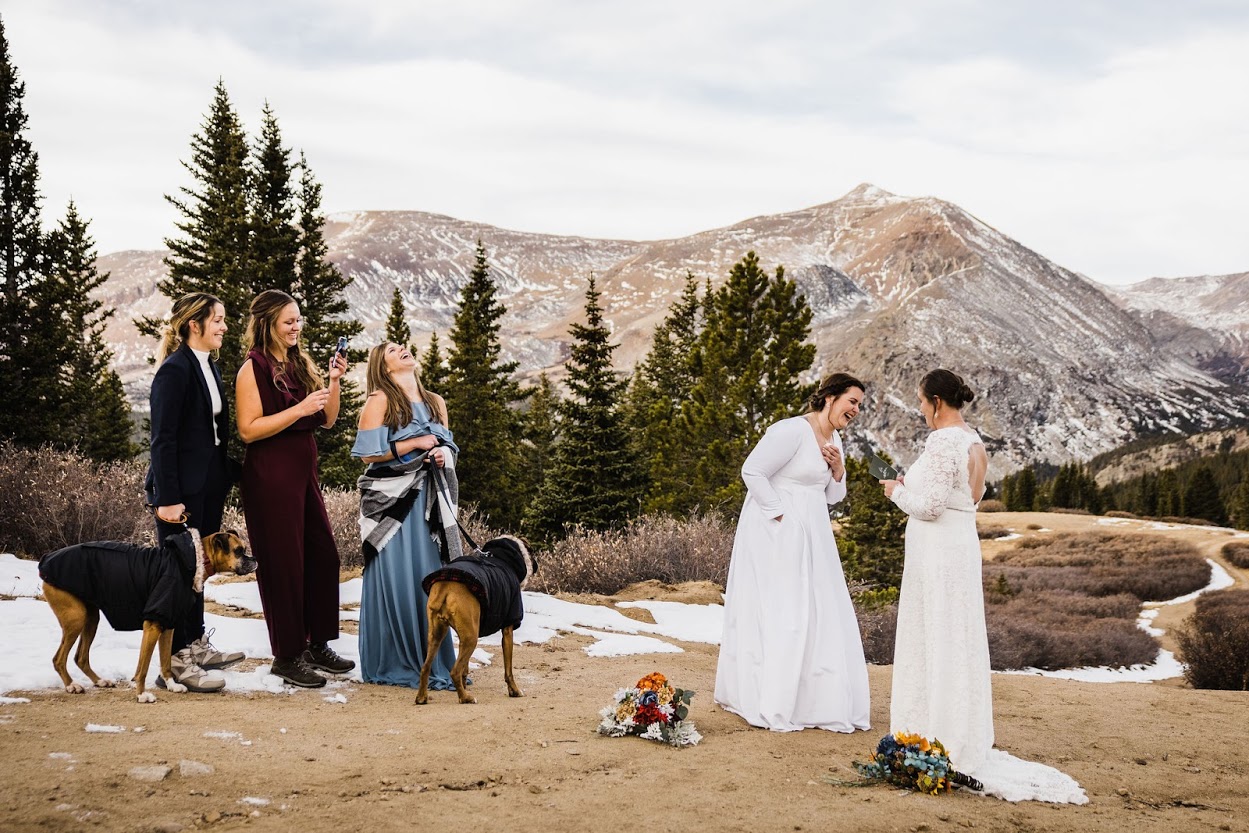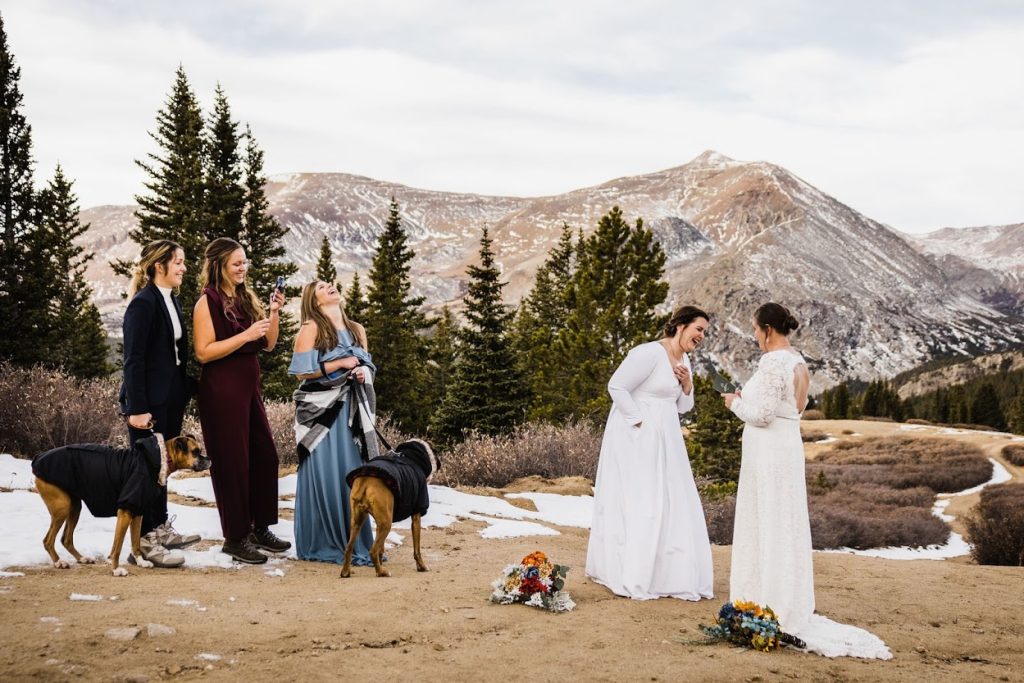 Wedding vendor: @VowoftheWild
Heather: "The Vow of the Wild had a breakdown of the day's events so it was really smooth in that regard. They took care of everything, made several backup schedules and locations, really made us feel taken care of. Before the wedding, Sarah and I did make our own bouquets! We went to the lobby picked out our flowers and put them together ourselves."
Spread the Love! Help the LGTBQ+ Community!
Share this love story on social media