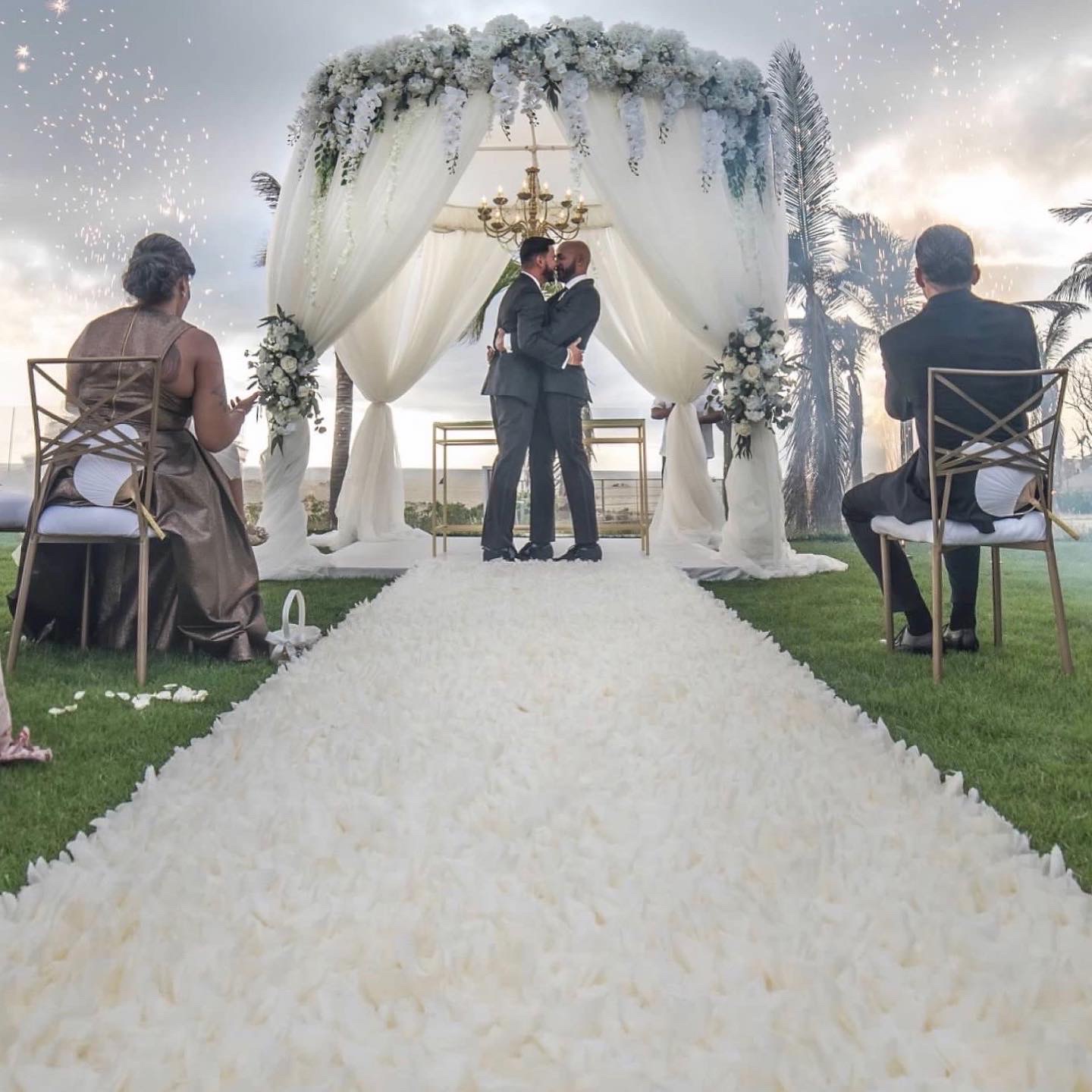 Anthony and Antonio – Love from "Hello"
This is a story about two men who found their soul mate.
First meet and First feelings
They first met on December 8, 2018, when they were introduced by a mutual friend, who thought they would be a perfect match.  Neither one of them was looking to be in a relationship at the time; however, their friend knew and felt they shared very similar qualities and were both marriage material to each other.  After several attempts of trying to get them together, he arranged a weekend trip to New York City with a group of friends, neither one of them knew the other was going.  This is when their love story began.  It was love at first sight. 
Anthony: "Our love started the moment we said, "Hello".  The best way I can explain this feeling would be from the movie, "Can't Buy Me Love", a teenager who falls in love for the first time, twinkling of the eyes, butterflies in the stomach, and lost for words when the one and the only person walks right by you heading to their next class. Except this was no teenage puppy love, this was the real thing.  It gave us both a full sense of happiness."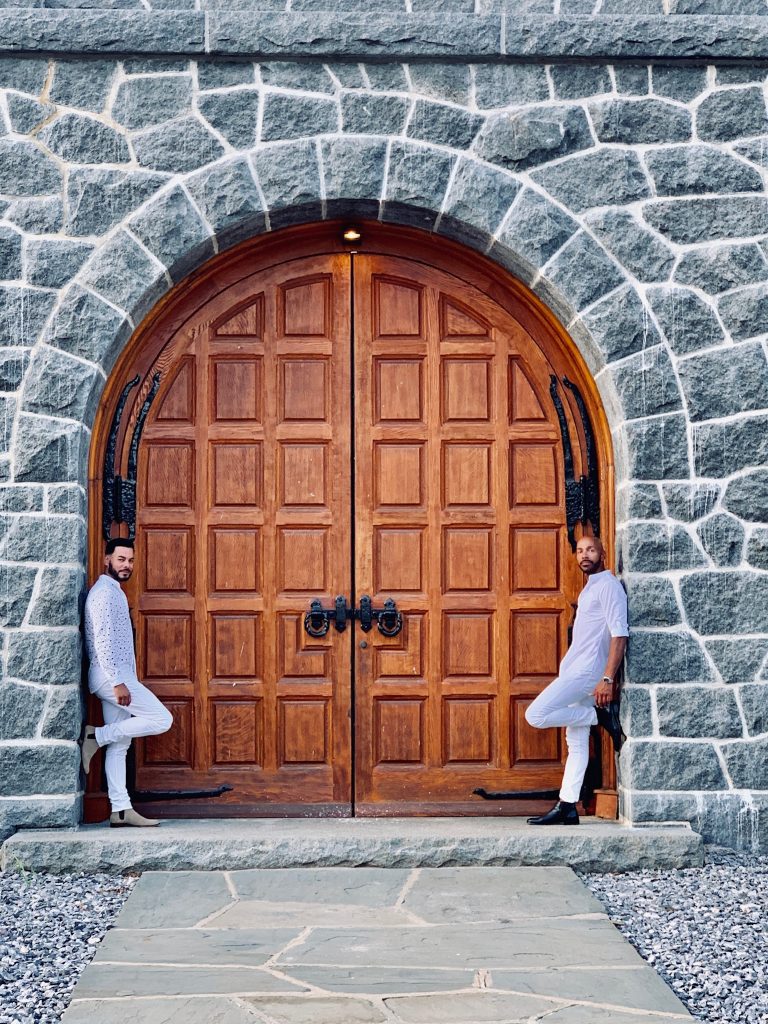 The journey of love started with a simple hello that evolved into something unimaginable. A week after they were introduced, they went on their first date on December 14, 2018 to Bartaco and realized there was an immediate attraction beyond what they saw on the exterior.  As time went on, they grew closer to one another.  Words didn't need to be spoken for them to know they loved each other since the beginning.  It was an unfamiliar emotion deep down inside that could only be felt.  Love is so deep that words could never describe.  When they tried to explain what they were feeling to one another, all they could do is stare into each others' eyes as they filled up with tears of joy.  It was then that they knew they had found their soulmate.
In such a short period of time, it felt like they knew each other forever, and they were just destined to be together.  The dating quickly evolved into a solid relationship that was filled with love, happiness, stability, and commitment. 
Antonio was in a local boy band growing up in the late 1990s known as Touch of Quality and then later joining Da Fellas. Earlier this year he expressed an interest in wanting to sing again and Anthony completely supported and encouraged him.  Antonio released his first song as a solo artist in January of 2020 called "Falling Deep For You".  The song was dedicated to Anthony which speaks of how he found his perfect companion, the one he had always dreamt of.  
The proposal took place on April 3, 2019 in Ft. Lauderdale at The Rooftop, a cocktail lounge that overlooks the city.  They both knew and felt in their hearts that they wanted to spend their eternal lives together. They planned a long weekend trip to Miami.  Anthony arrived a few days after Antonio and landed in Ft. Lauderdale where Antonio had already planned an overnight stay before heading to Miami the following day.  Antonio took Anthony to The Rooftop where they spent some time talking and enjoying the amazing view.  Later that evening, Antonio proposed and Anthony immediately said yes.  A few bystanders took pictures of the moment.  They later went to the hotel room which was covered in candles and flowers.  It was an amazing evening!
They initially started their wedding plans in June 2019.  They both agreed that they wanted a destination wedding.
They reached out to a local travel agent, Liberty Travel to assist them in finding a resort.  Liberty Travel provided them with a list of resorts and they decided on The Grand At The Moon Palace in Cancun, Mexico.  However, the resort informed Liberty Travel that they do not offer same-sex weddings at any of their properties (even though they report they are LGBT friendly).  Given their disappointment, they decided not to work with Liberty Travel, as they felt they should have already known this information prior to providing them with the resort as an option.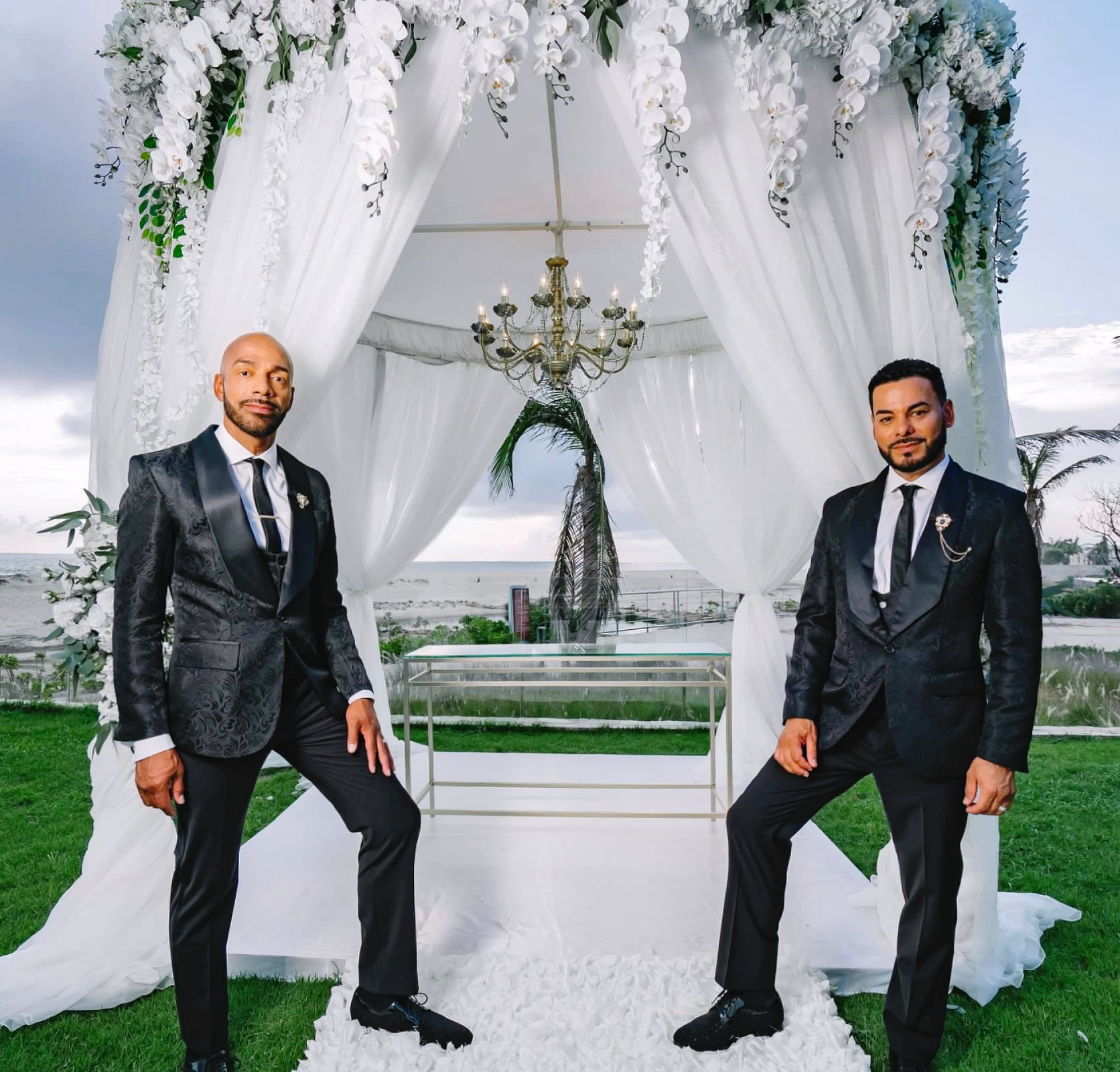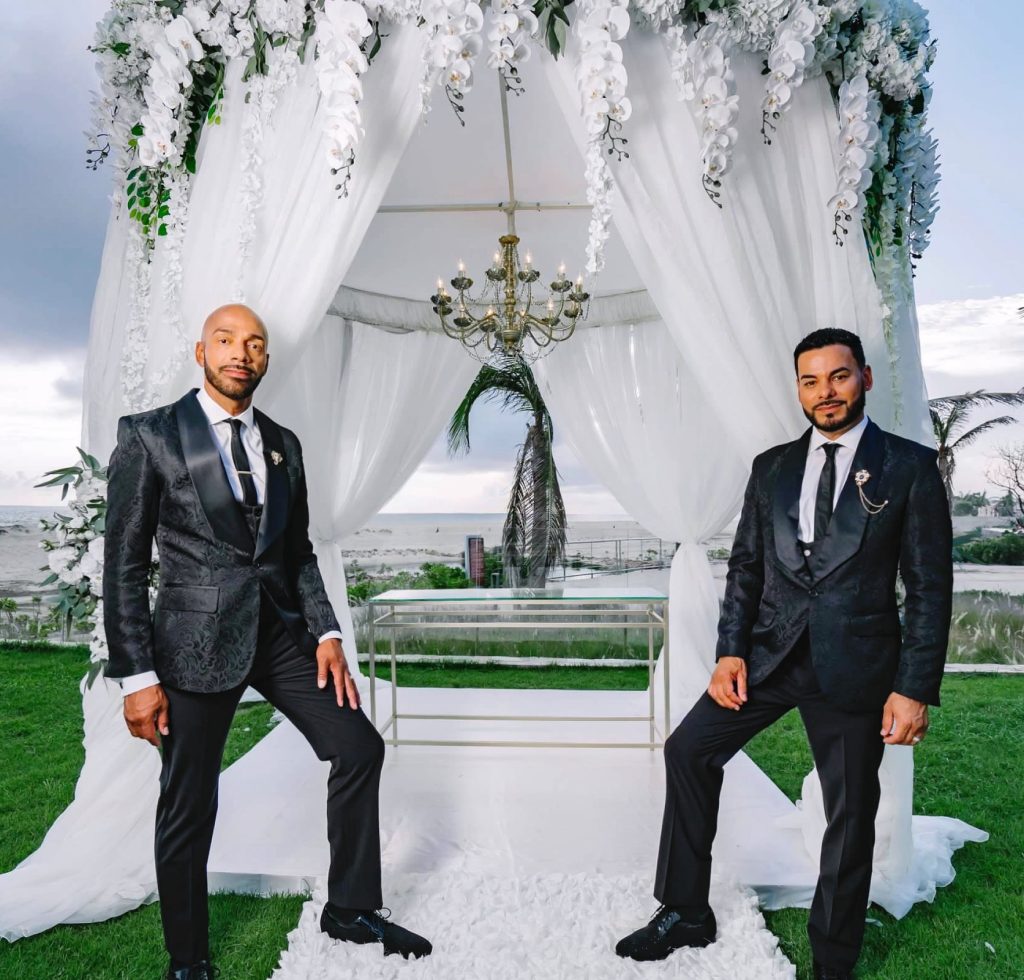 They were then referred by a relative to Michelle Tarbush of Take a Vacation, LLC. Michelle was very helpful and informed them of the Hard Rock Los Cabos which was expected to open in the summer of 2019. They immediately fell in love with the resort and were linked up with a wedding planner from the Hard Rock. The wedding planners they worked with were absolutely amazing and able to execute their ideas. They worked directly with the vendors to assure Anthony and Antonio had the perfect wedding. Their wedding was initially scheduled on May 25, 2020. However, at the end of April 2020 they had to make the hard decision to reschedule their wedding due to the COVID-19 pandemic. They were quite disappointed but knew the pandemic was not going to stop them. Both Antonio and Anthony celebrate their birthdays in August (Anthony, August 29 and Antonio's, August 30), so they decided to marry on August 31, 2020.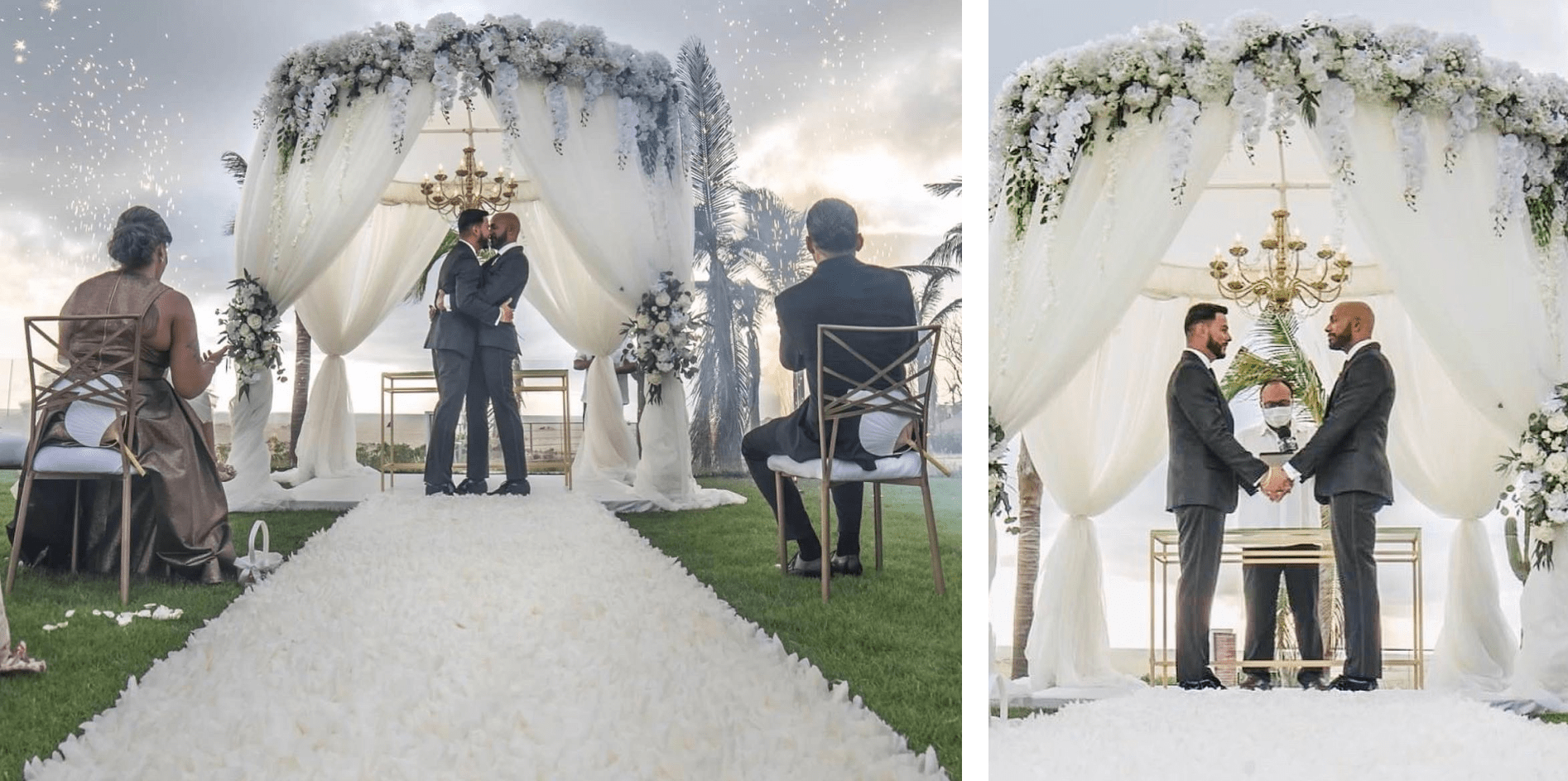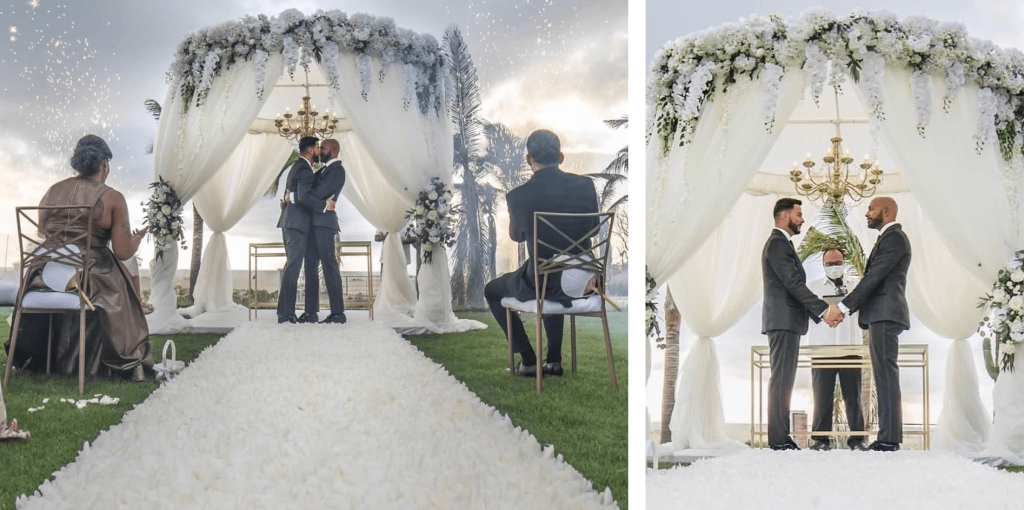 They had an amazing intimate wedding with 18 of their closest friends and family.  They planned a week of activities for their guests, from the moment they arrived until the day they left.  They knew their guests had traveled a long way and were anxious about traveling given the pandemic, so they wanted to make sure they were treated like kings and queens.  They scheduled camel rides, private cabanas, a mariachi band, a private sunset sail on a yacht which included dinner and an open bar, and swimming with dolphins.  It was an unbelievable week!