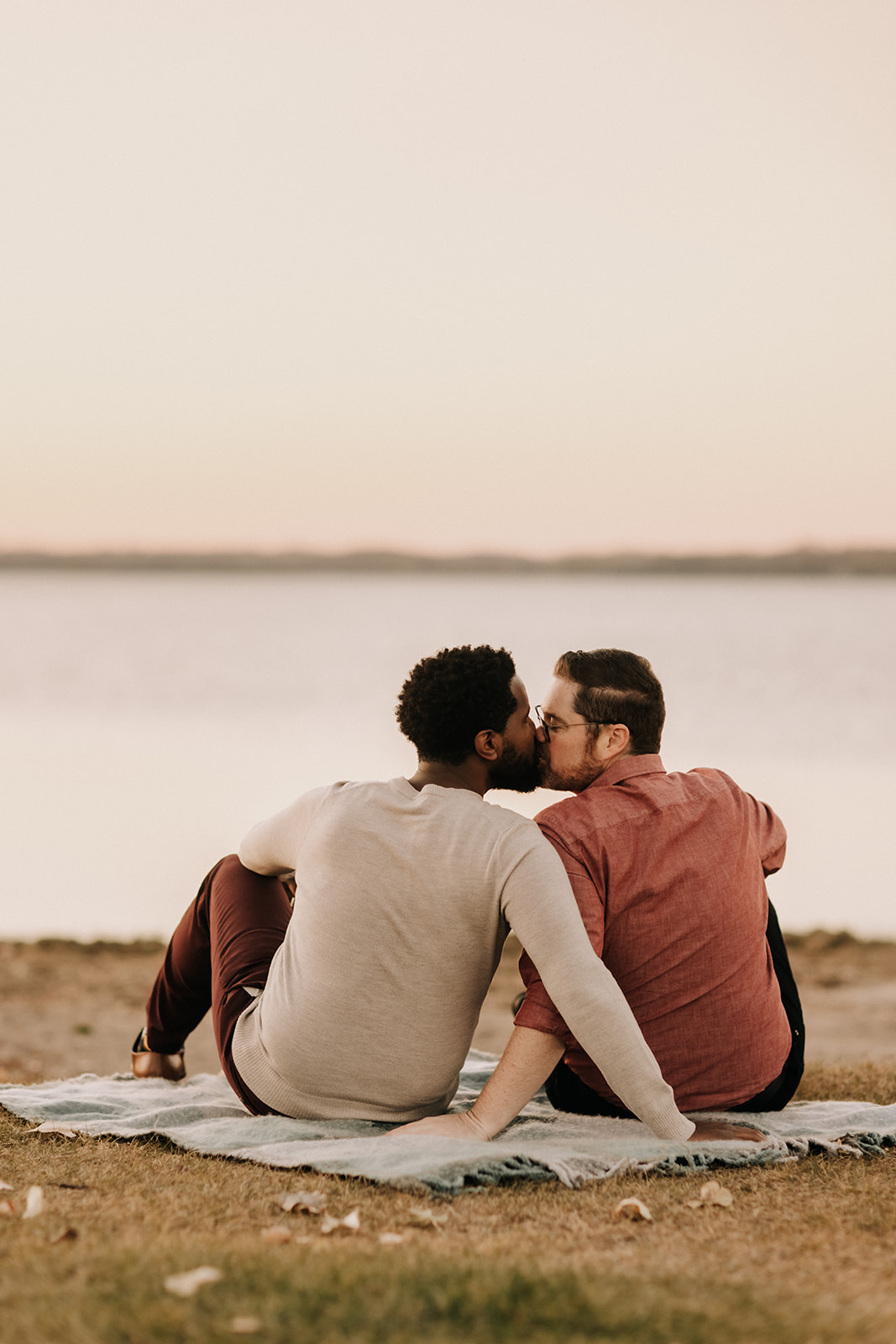 Love Story of Ryan and Eric
Ryan: We met via Scruff (though we just usually tell people we met online lol) and after chatting for a couple of days decided to meet in person on 4/14/18.  We were both sick of winter and trying to get some steps in, so we were going to walk the Minneapolis skyway system.  Of course, we forgot that we live in Minnesota and a horrible late winter blizzard hit the same day we were scheduled to meet.  But, Eric felt the highways were probably fine, and against the recommendations of Ryan's roommate, we proceeded to trek through the blizzard to downtown Minneapolis.
We walked and walked, talking about life, our pasta, interests in music and shows, sharing evil laughs as people fell in the snow drifts outside…the date was so effortless as if we already knew each other.  After 3+ hours it seemed smart to try to drive home, and with a dreamy kiss in the parking garage, I knew I was gonna marry this amazing man he just met.
Ryan: Iarrived first and saw Eric step off the elevator to the lobby outside Target.  Eric looked so handsome in person…and so comfortable in his active wear.  I realized this guy was serious when he meant he wanted to go for a walk, and regretted the cute (way too warm) outfit he decided to wear.  Eric was so easy to talk to and his eyes reflected his kindness.
Eric: Ryan's smile and laid-back personality was what Eric noticed right away.
Ryan: We met up again the next day (after shoveling out from under 20+ inches of snow) and quickly fell into a routine of getting together a few days a week, and then more, and then more.  It felt pretty natural, and I wanted to be around Eric as much as I could while still giving Eric the space he needed.
 

Difficulties with recognizing as a gay couple
Ryan: I introduced Eric to my friends quickly and my parents after a couple months when they were visiting.  It took Eric a little longer, and there were some hesitations, but for the majority of our loved ones, it was obvious how much we cared for each other and how happy we were.
Ryan: I call Eric Babe a lot…but with our pup Lola in the house, we also refer to each other as Daddy (Eric) and Papa ( Ryan).
Ryan: It's kinda odd, but we really don't argue. The only thing we silently argue is who is going to get up in the middle of the night to let the pup out when she's whining.  Birth other than that we discuss things that we're feeling and pretty much go with the flow.
Ryan: 2 years later, cohabitating with our pup Lola, and already talking about our surrogacy journey, we decided it was time to get married one afternoon out on our patio.  It wasn't a flashy, down on one knee with a ring in hand kind of moment, but it was perfect and exciting all the same.
Wedding plans and preparations
Ryan: We were supposed to get married 12/19/2020 but sadly because of covid-19 had to postpone the date to 4/17/2021.   It's going to be a smaller, intimate evening at a quaint, farm to table restaurant in South Minneapolis.
Preparations.
Ryan: We decided on the venue (Copper Hen) and musician (Joshua Schmidt) first, and started working on the other vendors from there, interviewing photographers, videographers, taking engagement pictures, trying on tuxedos, etc. It was obvious we needed a professional to help us with executing our vision, so we hired an amazing wedding coordinator (Whitney James Events).
Talks to vendors.
We noticed right away that some vendors don't use LGBTQIA+ intage form language, so if a website only had 'Bride and Groom's language, we immediately passed. We had to call out a couple of vendors on this when it came to electronically signing contracts or wording of emails/questions, but otherwise, all the vendors we met with have been so happy and supportive!
Website is WithJoy.com, photographer @jolsonweddings, videographer @eyetography_film_and_foto, musician @joshuajschmidt, venue @thecopperhen, coordinator @whitneyjamesevents, florist is still TBD, tuxedos are still TBD